The USD/CAD continues to trade lower for the second straight day despite a drop in crude oil prices. The demand for the loonie stems from the opinion piece written for the Financial Times by Bank of Canada Governor Tim Macklem. 
Macklem indicated in his write-up that the bank would not raise rates until the Canadian economy fully recovered but admits that the BoC is closer to rate increases at this time. Data from Canada shows an 8.6% rise in Canadian home sales, boosted by greater demand on recovery of consumer spending power.
Falling oil prices are expected to be a limiting factor to the loonie's gains over the greenback. The USD/CAD is down by 0.18% as of writing.
USD/CAD Price Outlook
The decline in the price action on Monday is testing support at 1.25000. If this decline continues, the 200-day moving average will be the primary barrier between the bears and the 1.24489 support. 1.23998 and 1.23028 are additional targets that enter the mix if the price declines further.
On the other hand, a bounce on 1.25000 targets 1.25964 initially. A further advance targets 1.26477 and potentially 1.27419 if the expectation of a BoC rate increase cools off. However, the expectation of a rate hike could make these levels potential rally points for new short orders. 
USD/CAD: Daily Chart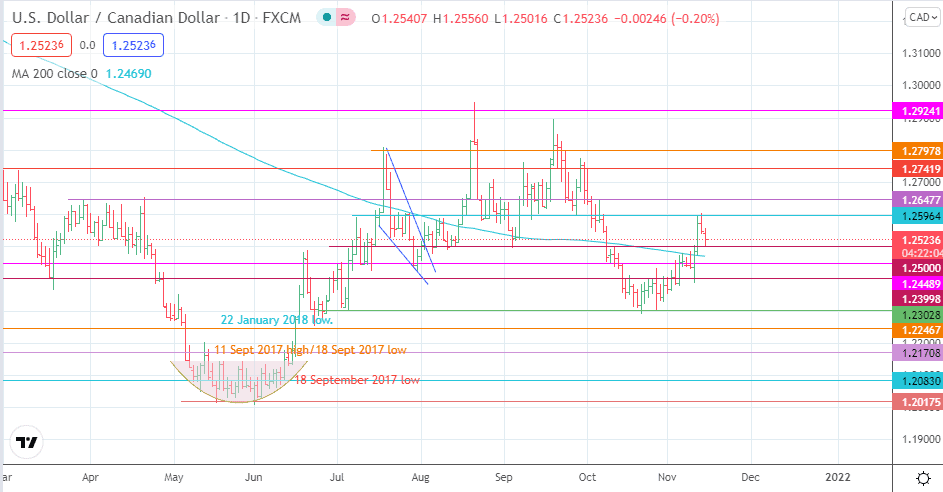 Follow Eno on Twitter.