The USD/CAD price continued its bullish trend on Wednesday morning as investors reacted on the strong US dollar and the upcoming interest rate decision by the Bank of Canada. It rose to a high of 1.3192, which was the highest point since 1st September. The USD to CAD exchange rate has jumped by more than 3.6% from its lowest level in August.
Bank of Canada decision
The USD/CAD price continued rising ahead of the interest rate decision by the BoC. Analysts expect that the bank will hike interest rates by 0.75% as it continues to fight the soaring inflation. If this happens, it will push rates to 3.25%, which will be the highest level in more than a decade.
The BoC rate hike will come at a time when Canada's inflation has soared to more than 7% in the past few months. Analysts believe that inflation will peak at around 8%, which will also be the highest point in decades. A Bloomberg analyst wrote that:
"Parts of the report point to rate hikes having the intended dampening effect on housing, which we think will keep the Bank of Canada on track to hike by 75 basis points next week."
At the same time, the Canadian economy is showing signs of slowing down. Data published last week showed that the country's economy expanded by 3.3% on a year-on-year basis after expanding by 3.1% in Q1. This growth was led by stronger consumer and business spending. However, there are signs of a slowdown considering that the figure was lower than the expected 4.4%.
The other catalysts for the USD/CAD pair will be the latest Canada trade and PMI numbers that are scheduled for Wednesday. They will be followed by the upcoming Canada jobs data scheduled for Friday.
USD/CAD forecast
The USD/CAD exchange rate has formed a cup and handle pattern on the 4H chart. In price action analysis, thus is one of the most accurate bullish signs in the world. It has also moved above the 25-day and 50-day moving averages and the standard pivot point.
Therefore, the pair will likely continue rising as bulls target the next resistance level at 1.3340. A drop below the support at 1.3140 will invalidate the bullish view.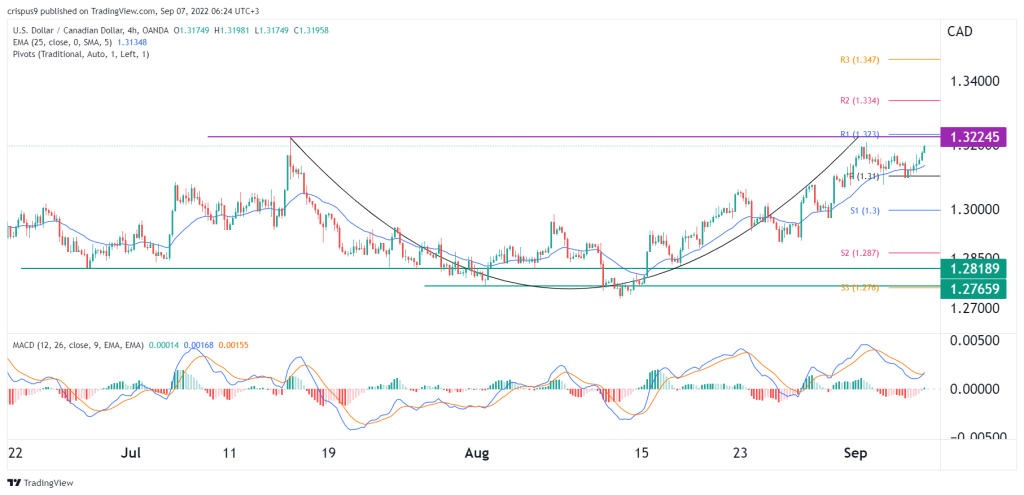 USD to CAD support and resistance levels
InvestingCube's S&R indicator is an affordable and highly accurate tool that tracks tens of assets. The indicator has a bullish view on the USD/CAD price with the initial targets being at 1.3150 and 1.3200. The stop-loss for this trade is at 1.3025.