The Uniswap price is struggling to find its feet after last weeks washout and could be vulnerable to a second wave of liquidation. However, for now, UNI has found support. How long it holds depends on what happens at the top of the cryptocurrency league table.
Between the 20th of July and the 4th of September, DeFi market maker Uniswap (UNI/USD) had been on a tear, jumping more than 140% from $14.00 to $33.87. However, the bull run ended abruptly when Bitcoin (BTC/USD) was slammed 20% lower last Tuesday. UNI slid over -30% intraday to $20.15 before recovery to end the session -15.6% lower, at $24.32. However, despite the bounce, the Uniswap price has failed to advance in the last seven days and is currently grinding sideways, hugging the 100-day moving average at $22.75. Although this consolidation is bound to end soon, the question is, which direction will UNI take?
UNI Token Price Forecast
Firstly, the daily chart shows Uniswap has struggled to break free from the 100 DMA over the last week. Even though the price has been trading on either side of the momentum indicator, it acts as a support level and, so far, is doing its job. Below the 100 DMA, a rising trend line at $21.28 offers additional price support. Should UNI lose this trend support, a leg lower to the long-term trend support at $15.25 looks probable.
Above the market, the 50-day average at $26.07 and the 200-day at $27.19 are the first obstacles in the path higher. The 200 DMA should be considered the major barrier. If the price hurdles $27.19, it should continue to the September 4th high of $33.87. Furthermore, above that, an argument for a run at the all-time high can be made.
Until BTC/USD breaks out of its current range between $44,000 and $46,500, Uniswap will likely trade sideways. However, when Bitcoin does eventually break, the Uniswap price will follow.
Uniswap price chart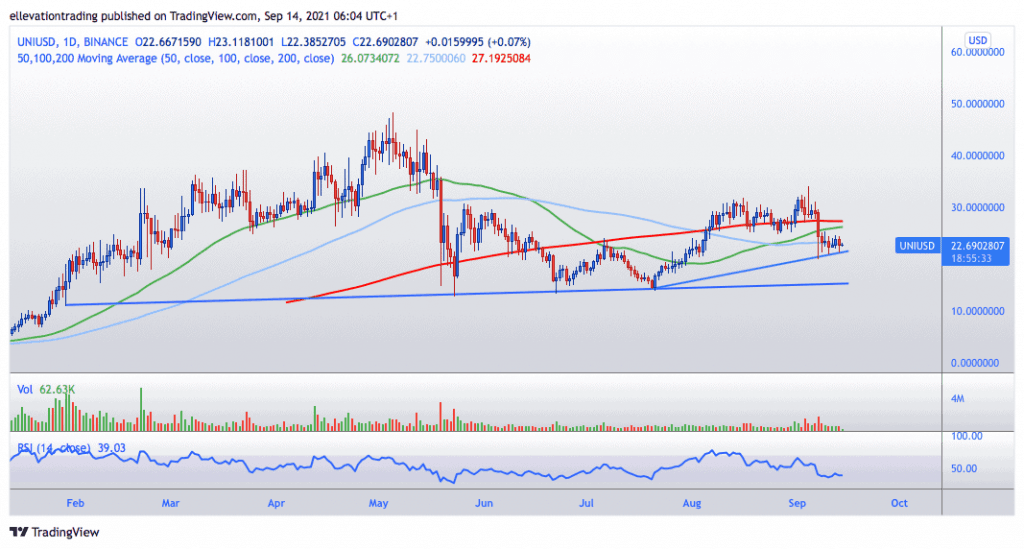 For more market insights, follow Elliott on Twitter.