Tiffany and Co., well-known for their high-end jewels, have announced their entry into the NFT market. The company's NFTiff venture will allow holders of Cryptopunk NFTs to create a personalized pendant based on their NFT. Furthermore, the NFTs will be encrusted with precious gems, including diamonds. To get a pass, NFTiffs permits holders of Cryptopunk tokens to pay 30 ETH each. That works out to about $50,000 per token.
Tiffany and Co. NFTs blend tech and luxury
Using a pixelated grid animation, the jewelry brand revealed the moniker NFTiff as part of the launch announcement on Twitter. Starting on August 5, the NFTs will be available to purchase. At a price of $50,000, it will set a new record for the most expensive public sale for NFTs. Tiffany & Co. designers will design the one-of-a-kind pendant, taking their cues from the Punk NFT belonging to the CryptoPunk owner.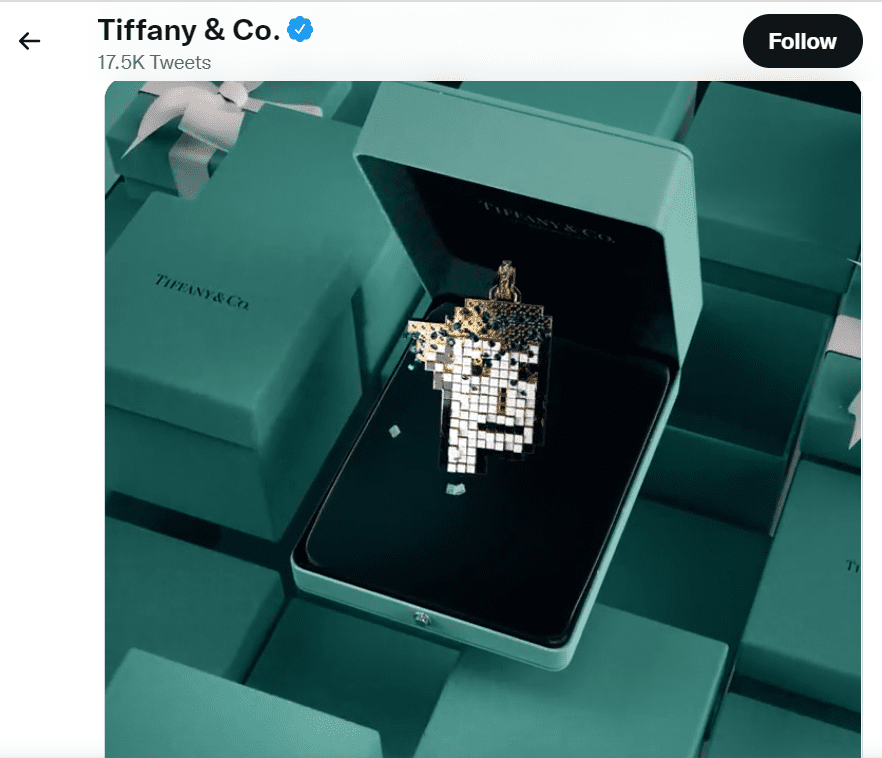 There will be a total of only 250 passes made available to the general public, as per the company's official blog post. Up to three passes will be available for purchase by a single person. In addition, Tiffany & Co. will use the most similar gemstone or enamel colour to represent 87 qualities and 159 colors from the original NFT version. Cryptopunk fans will be able to get their hands on a personalized pendant, a certificate of authenticity, and the stylish Tiffany & Co. packaging when they purchase one of the items.
Furthermore, Alexandre Arnault, the vice president of NFTiffs, appears to have inspired the company's new venture. Arnault personally possesses a Cryptopunk #3167 and most recently had his NFT repurposed as a custom jewel-encrusted pendant. As many as thirty precious stones and/or diamonds will go into each pendant, depending on how many CryptoPunk owners purchase them as a tribute to the original NFT art.