The Theta Token price is pushing up on Friday as Bitcoin lifts the cryptocurrency market higher in thin Christmas eve trading.
Theta Token (THETA) is slightly firmer at $4.82 (+1.28%) in early Asian trading on December 24th, extending the 7-day gains to +13.40%. Despite the recent strength, THETA is down -27% in December and trades around 70% below April's all-time high. The Video-streaming platform's market cap is approximately $4.8 Billion ($15 billion in April), ranking it the 41stb most valuable cryptocurrency behind Fantom (FTM).
The cryptocurrency market is showing gains across the board on Friday, led by Bitcoins recovering to $51,000. BTC's push encourages altcoin buying, with almost all of the top-ranked cryptos in the green this morning. There isn't a particular reason for the sudden shift higher, other than an overall improvement in risk sentiment. US equity indices have broadly recovered from the Fed-induced wobble and are on course to finish 2021 at record levels. As a result, crypto investors are gaining confidence, with buyers returning to scoop up heavily discounted assets. However, the Theta Token price action is hardly convincing and whilst gains are likely in the near term, the longer-term picture remains unclear.
Price Analysis
The daily chart shows that the Theta Token price trades in a descending triangle pattern. The token has spent the majority of December grinding along the lower edge of the triangle between $3.50 and $4.00.
Over the last four days, the price action has improved Theta by 23%, lifting it above the 50-Day Moving Average (DMA) at $4.73, which now becomes the first support. If the price remains above the momentum indicator, it should advance toward the 100 and 200-DMA's at $5.84 and $6.02, respectively.
I am moderately bullish in the near term, with a $6.00 price target. However, the gains will likely be limited unless the crypto market embarks on an extended bull run. Furthermore, the bullish call becomes invalid if the price fails to hold above the 50-DMA.
Theta Token Price Chart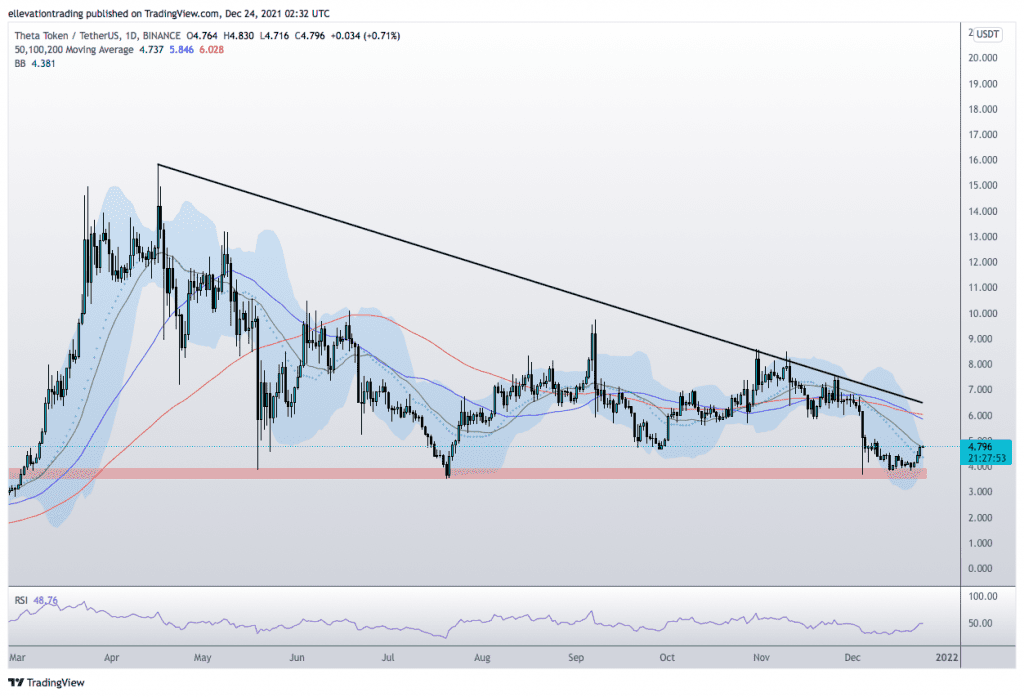 For more market insights, follow Elliott on Twitter.