The Theta price continues to frustrate both the bulls and the bears as it fluctuates on either side of the long term moving averages. Theta (THETA) is slightly softer at $6.77 (-1.4%), sandwiched between the 50, 100 and 200-Day Moving Averages in early Tuesday trading.
Despite many cryptocurrencies trading towards the top of their historical ranges, THETA Token has made zero progress in eight months. The Video-streaming network's market cap of $6.5 billion is the same value as in March. In part, the underperformance is due to capital running into different sectors of the market.
Currently, Layer-1 blockchain's like Solana (SOL) and Avalanche (AVAX), and Metaverse cryptos are sucking liquidity from other areas. Subsequently, the market is looking increasingly fractious, with some assets flying and others languishing. Unfortunately for the THETA token, until a bullish catalyst arrives, it sits firmly in the latter camp.
Token Price Analysis
The daily chart shows the price is just below the 200-DMA at $6.68, above the 100 DMA at $6.62 and aligned with the 50 at $6.76. In theory, a close above the 200-Day should be bullish, and the reverse true for a close below the 100 DMA. However, recently, neither scenario has resulted in a material move, which underscores the muddied outlook.
For now, until a straightforward narrative emerges, the path of least resistance is sideways. On that basis, my current take on the price is neutral, awaiting further developments.
THETA Price Chart (Daily)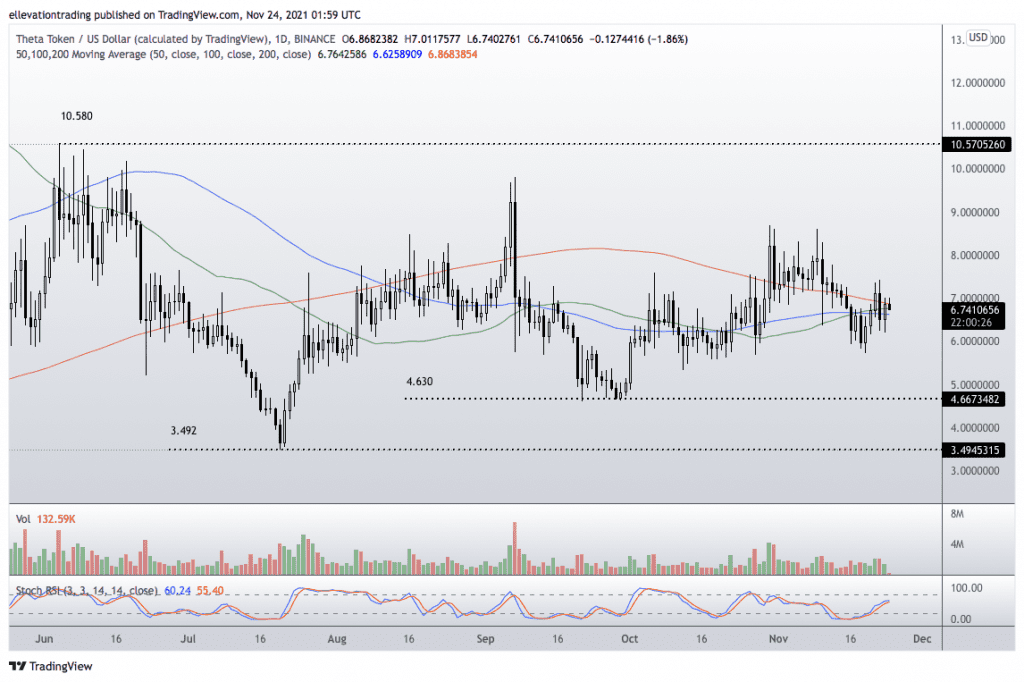 For more market insights, follow Elliott on Twitter.