Deliveroo share price continues its slide from the August high. ROO has lost 7.5% in September, and the technicals are still pointing lower. Over the last five months, food delivery company Deliveroo Plc (LON: ROO) has been on a rollercoaster ride. When ROO made its debut on the London Stock exchange on March 31st, it immediately dropped 30% from 390p down to 271p. Although it didn't stop there, over the next three weeks, the Deliveroo slid a further 17% to an all-time low of 224.4p.
Since the nadir in April, ROO has been fighting back. After the company announced a deal to provide delivery services for health and beauty retailer Boots, the share price finally climbed above its listing price. By mid-August, Deliveroo was trading at a record 396.3p. However, now at 327.5p, ROO is again on the path lower.
ROO Price Forecas
The daily chart shows that Deliveroo has been trending lower for the last month. In that time, ROO has given back almost 18%, wiping out all of the Boots bump.
As a result, descending trend channel has formed, and ROO has dropped below the horizontal support of the July high at 338.20p and the 50-day moving average at 336.90p. This is setting Deliveroo up for further losses.
An obvious target is a rising trend line that is seen below the market at 273p. This is significant because it aligns with the opening day low and series of highs in April and May. Furthermore, 270p was the breakout level that triggered the run to the all-time high. Therefore, this is a huge price level for ROO.
As long as the share price is trending lower, I expect 270p-275p to be its final destination. This bearish view remains valid unless Deliveroo climbs above the 8th of September high at 370p.
Deliveroo Share Price Chart (Daily)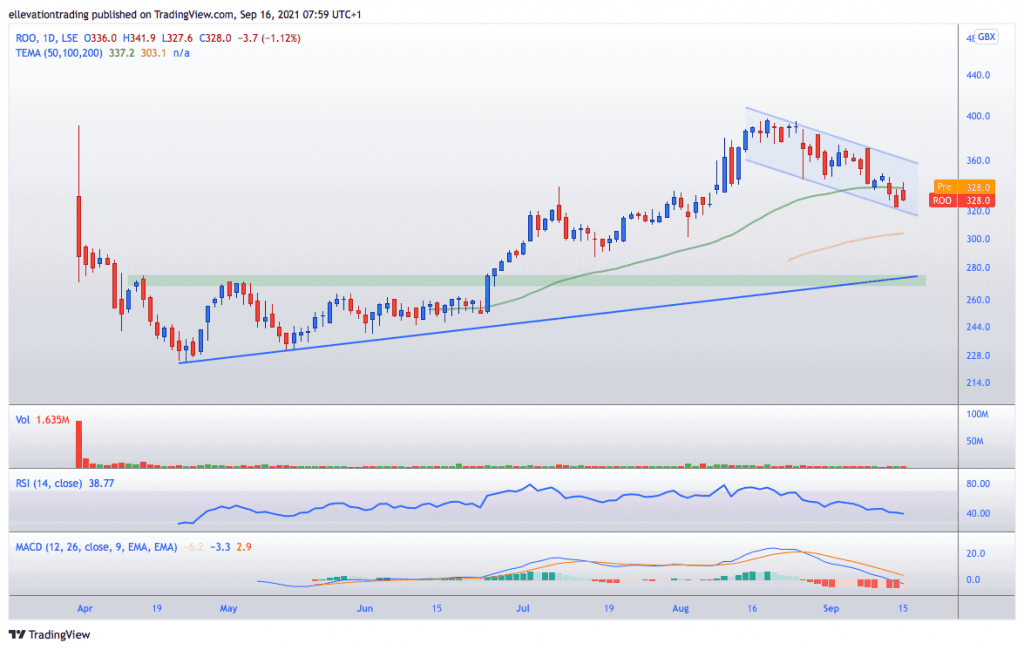 For more market insights, follow Elliott on Twitter.