Tesla stock price is imploding before our own eyes. The shares plunged to a low of $160 on Thursday after analysts at Goldman Sachs lowered their guidance. They have crashed by more than 60% from their all-time high. This makes TSLA one of the worst performers in the Nasdaq 100 index.
Memories of Cisco
Tesla share price sends memories of Cisco, the networking giant. At the height of the dot com bubble, the company was the biggest company in the world. Its peak valuation soared to more than $546 billion as investors predicted that its networking products will be essential in the new age of technology. However, new competitors like Ubiquiti Networks, Huawei, and Juniper Networks have taken market share.
Similarly, at its peak, Tesla was seen as a game changer that will dominate the EV industry. While the company has a strong market share in the industry, competition is rising. Companies like Lucid and Rivian, are slowly chipping away Tesla's market share. Legacy brands like Ford and General Motors have also launched quality competing brands.
Therefore, as the Tesla stock price crashes, there is a likelihood that the stock will reprice lower in the coming years as its moat in the EV business narrows.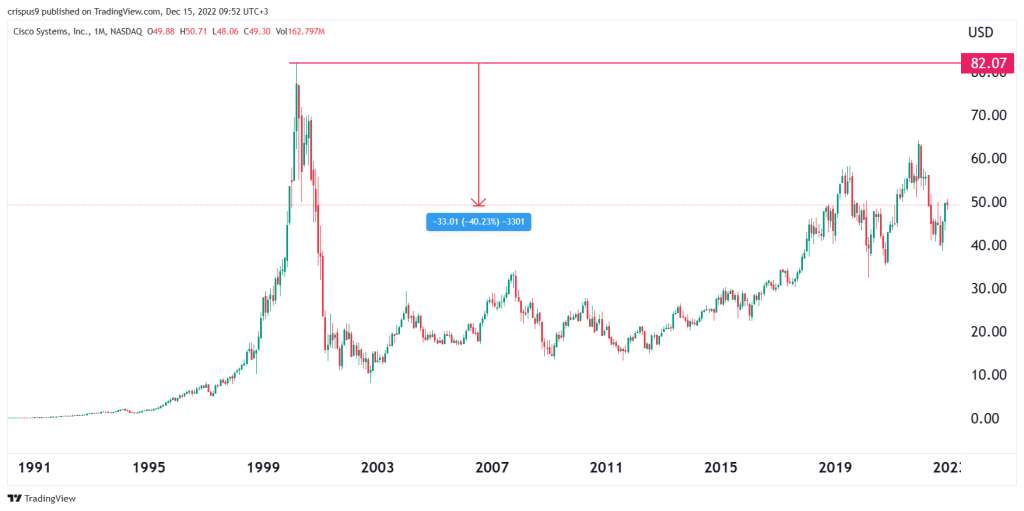 Tesla faces numerous challenges
Tesla faces a mountain of challenges. First, Elon Musk, its CEO has gotten disrupted following his Twitter acquisition. He is spending most of his time focusing on Twitter, the fledgling social media company.
Second, Musk is selling loads of stock. This week, it was reported that he sold shares worth over $3.5 billion. In the past few years, he has sold stock worth over $20 billion. This could be a sign that he is losing his confidence in the company.
Third, competitors are working hard to dethrone Tesla. Most companies in the auto sector are all using their resources to build quality EVs. And they are generating strong sales. For example, firms like Ford, GM, Rivian, and Lucid have all accumulated thousands of preorders.
Tesla stock price forecast
I have been relatively bearish on Tesla share price for a while as you can read in this article. Turning to the daily chart, we see that the stock plunged below the important support at $205, the lowest level on May 23. It has moved below all moving averages while the money flow index has dropped below the neutral level of 50.
Therefore, the shares will likely continue falling as the bearish momentum fades. This drop could see it crash to about $125 in the coming months.