Car-rental giant orders 100,000 EVs from Tesla with a 2022 delivery date.
Order makes Tesla the most valuable tech company in US with $1trillion valuation.
Tesla share price surges nearly 20% this week.
The Tesla share price continues its dominant display in the US market, adding a further % after the company became the first US tech conglomerate to attain a market valuation of $1trillion. This came off a large car order from car rental giant Hertz.
According to reports from Nasdaq, Hertz has placed an order worth 100,000 vehicles from Tesla to be delivered in 2022. This order represents the biggest ever single demand for electric vehicles (EVs) ever made. The market responded very positively to the development, adding 12.66% on Monday and adding another 5.44% as of writing on Tuesday.
Tesla's Model 3 has also topped monthly car sales charts in Europe for the first time ever. Tesla CEO Elon Musk tweeted a response, saying that Tesla would soon become a German Investors are also excited by a report that Tesla may restart purchases of Bitcoin, which is seeing a renewed rally.
Tesla Share Price Outlook
Tesla's 4-day winning streak has taken out the 1025.26 resistance and set it on the path towards 1134.35. If this new target gives way, 1307.51 becomes the new target for bulls.
On the flip side, a retracement dip below 1025.26 beings 900.00 into focus, the site of a previous high seen on 22 January. Below this level, 864.01 and 779.23 are additional downside targets that must be attained before 693.75 comes into the picture. The present sentiment favours dip-buying on any pullbacks, as the trend remains bullish.
Tesla Share Price: Daily Chart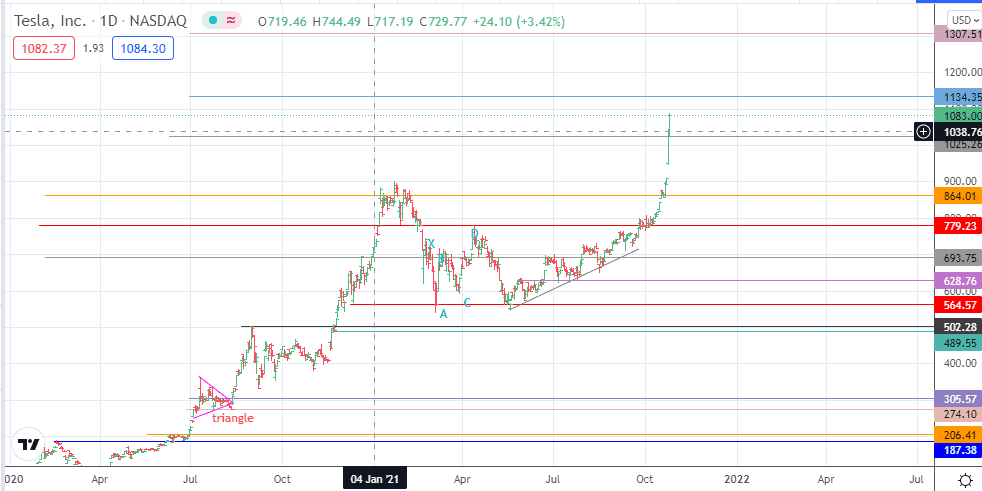 Follow Eno on Twitter.