The Tesla share price is trading higher in premarket trading, following Monday's correction that was triggered by the outcome of the Twitter poll organized by Musk on whether to sell 10% of his Tesla stake or not.
The Tesla CEO had organized a poll, requesting the public's opinion of selling 10% of his Tesla holdings. Elon Musk does not take a salary from Tesla, which technically absolves him of any tax liability. However, he is obliged to pay close to $15billion in taxes on his stock options. The Twitter poll showed that 57.9% of respondents had overwhelmingly voted for him to sell.
It has emerged that Tesla board member and Elon's brother Kimbal cashed out close to $109 million worth of Tesla stock a day before the Tesla CEO posted the tweet that caused a fall in the Tesla share price on Monday.
Tesla's shares have seen a meteoric rise since the pandemic on increasingly strong sales of its EV models. The stock is up 4.92% in premarket trading.
Tesla Share Price Outlook
Monday's decline found support at the 1134.35 price mark, forming an inverted hammer in the process. The advance in premarket may be a rally-selling opportunity off the 1207.99 resistance. Such a move would retest yesterday's support, with a breakdown opening the door towards 1025.26. Below this level, 902.94 becomes an additional target to the south.
On the other hand, a break of the 1207.99 resistance following the premarket advance opens the door for bulls to aim for the 1307.51 resistance. This barrier was formed by a previous price top before the stock split of 2020. The price advance has to take out the 2021 high at 1243.49 to make this a possibility.
Tesla: Daily Chart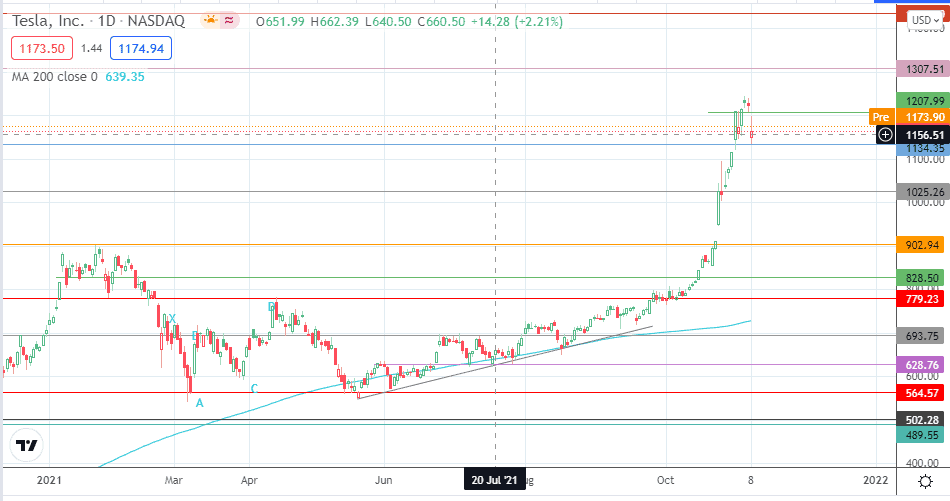 Folllow Eno on Twitter.