The Tesco share price is trading lower this Wednesday, stalling at a critical resistance line after failing to top the week's highs.
Tesco had ridden on the back of outstanding sales figures during the Christmas holiday, but it appears that the momentum from this event has run out. Reports of the company offering biros to staff that raked in £1million, which beat the Gloucestershire store target, may probably not have swayed trading sentiment.
A look at the daily chart below reveals that the price action is forming progressively lower highs, indicating that the bullish momentum is waning.
Tesco Share Price Outlook
The Tesco share price broke the ascending trendline, bounced off the 283.80 support and found its way to the broken trendline in a return move. If this return move is rejected at the trendline, there is a potential for a resumption of the downward move, which will then retest the 287.50 support line initially. If this support is blown apart, 283.80 comes into the picture once more. Only a breakdown of this level allows for a decline towards 276.80. If the decline continues further, additional support targets at 271.70 and 267.15 may be up for grabs.
On the flip side, a break above the ascending trendline and the 293.35 resistance restores upside potential. This also opens the door for a potential move towards 301.50, with 304.15 serving as an additional target to the north.
Tesco: Daily Chart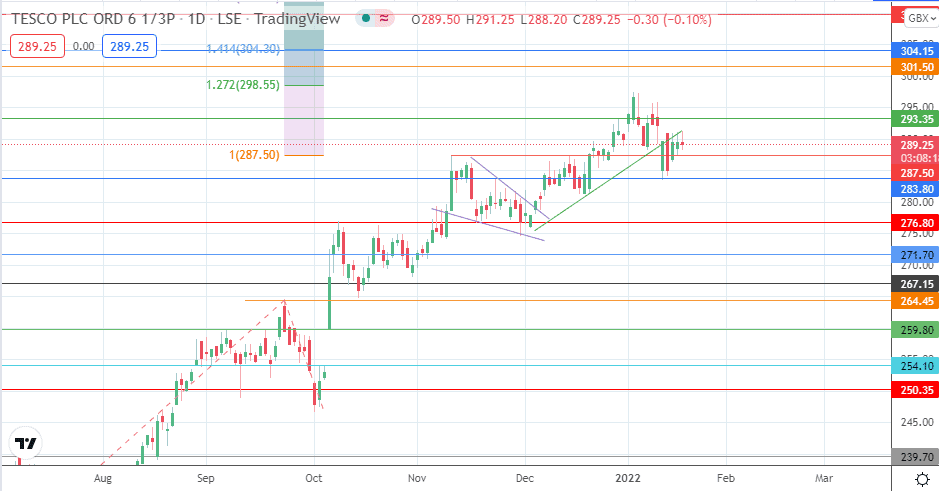 Follow Eno on Twitter.