Tesco share price dipped on Thursday after claims that its school shirts were shrinking after a single wash.
Several users posted pictures to back up their claims, with a Facebook post by an aggrieved mum showing a shirt and a much smaller one that was said to have gone through a single wash. The unnamed mum later claimed that after washing the second, it shrunk even smaller than the first shirt.
The company says it is investigating the claims. A company spokesman also says that the company took "great care" in ensuring that washing instructions are clearly labelled, and clothes made to last. The Tesco share price is down 0.8% on the day as of writing.
Tesco Share Price Forecast
Tesco share price is testing the support at 254.10. A breakdown of this level allows 250.35 to come into the picture. 247.45 and 245.00 serve as additional targets to the south.
On the flip side, bulls require a break of the 259.80 price mark, which has capped the Tesco share price since 13 December 2019. A break of this level establishes the medium-term uptrend, targeting 267.15 (13 August 2018 high) and 271.70 (4 August 2014 high) as the immediate targets north of 259.80. 
Tesco Share Price (Daily)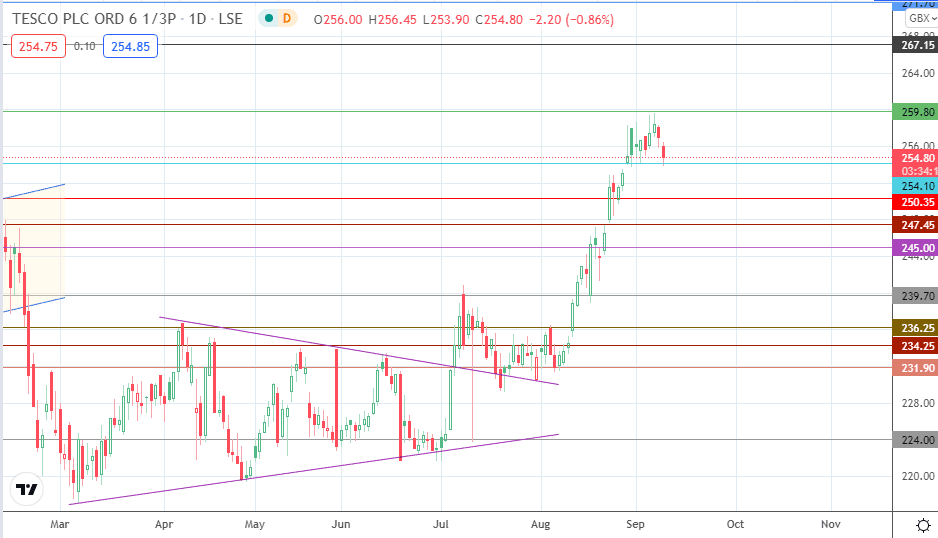 Follow Eno on Twitter.