The Tesco share price has spiked to 8-year highs after the latest sales data from the UK showed that the company outperformed its peers in Christmas sales figures.
According to data released by Kantar, Tesco attained its highest grocery market chain since January 2018, rising to 27.9%. On a two-year horizon, sales of Tesco climbed more than 10% despite a 1% drop in 12-week sales up to Boxing Day 2021. Sales were boosted by COVID-19 restrictions, which drove more UK shoppers to stock up on food and groceries.
Sales for Tesco's rivals dropped a lot more than that of Tesco, with Asda, Morrisons and Sainsbury's seeing a 3.9%, 6.5% and 4.4% drop in their 12-week sales up to 26 December 2021, when compared with the similar period in 2020.
On the back of this information, investors snapped up Tesco's stocks, allowing the Tesco share price to gain by 0.65% on the day to continue its recovery beyond the 1 July 2014 high of 295.20.
Tesco Share Price Outlook
The intraday uptick has allowed the Tesco share price to clear the 293.35 resistance level, focusing on the 301.50 resistance as the immediate target. If the bulls take out this price mark, 305.10 (2 June 2014 high) and 309.80 (1 March 2012 low) become the new targets to the north.
On the other hand, while declines may be opportunities for new dip-buying, a breakdown of the 283.80 pivot may initially allow for a dip towards 276.80. Support levels at 271.70 and 267.15 only come into the picture as potential new downside targets if the corrective decline is more extensive.
Tesco: Daily Chart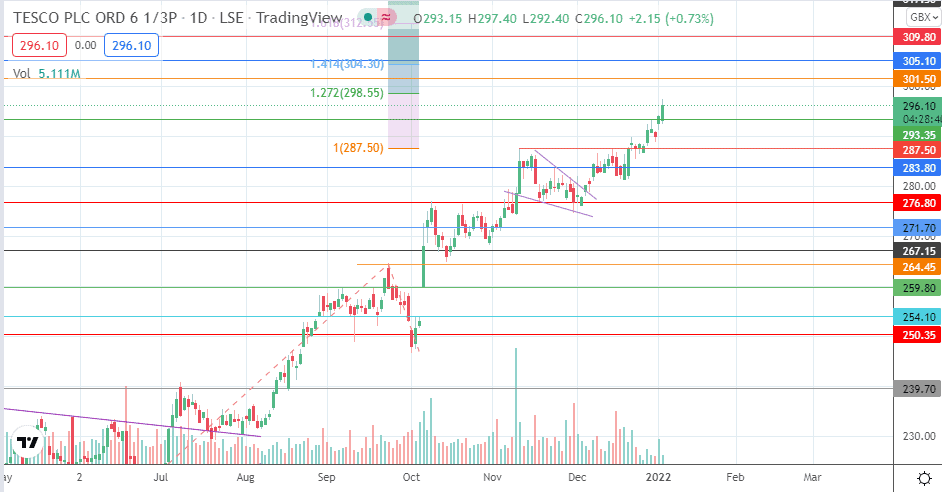 Follow Eno on Twitter.