Terra's price is crawling back after a spectacular crash in the past few days. LUNA is trading at $52, which is about 20% above the lowest level on Monday. It is still about 50% below its all-time high.
What is Terra and what does it do?
Terra is a blockchain project that enables developers to build decentralized applications (Dapps) and other projects like stablecoins.
Terra is a South Korean company that was developed by a company known as Terraform Labs.
In the past few months, the price of the LUNA token has jumped sharply, bringing the total market capitalization to more than $21 billion, making it the 9th biggest cryptocurrency in the world.
Terra's goal is to give developers a platform where they can build high-performance Dapps that are faster and have lower costs.
According to the developers, Terra helps to solve some of the biggest challenges that Bitcoin has. It is a price-stable and growth-driven cryptocurrency that achieves this through an elastic money supply.
Terra vs LUNA vs TerraUSD
A common question is on the difference between Terra and LUNA. The difference between the two is relatively easy to understand.
Terra Protocol is a smart contract blockchain platform, while LUNA is the native token for the ecosystem. Since Terra is a proof-of-stake protocol, miners must first stake LUNA tokens to mine Terra transactions. In other words, LUNA represents mining power in the Terra network.
On the other hand, TerraUSD is a stablecoin built using the Terra ecosystem. According to CoinGecko, TerraUSD has a market cap of over $11 billion, making it the fourth-biggest stablecoin in the world after Tether, USD Coin, and Binance USD. 
TerraUSD differs from other stablecoins simply because it is not backed by the US dollar. Instead, it is backed algorithmically. For example, to mint 1 TerraUSD, $1 USD worth of LUNA needs to be burned.
Terra Luna White Paper
Like all cryptocurrencies, the foundation for Terra is its white paper. It is a comprehensive document that mentions all features of the network. You can download the Terra White paper here.
Who are the Terra founders?
Terra was started by a group of four computer scientists from South Korea. The current face of the project is Do Kwon, who became famous when he was subpoenaed when attending a conference. The other co-founders of Terra are Evan Kereiakes, Marco Di Maggio, and Nicholas Platias.
Terra ecosystem | projects built in Terra
The Terra price jumped sharply in 2021 as investors cheered the growth of its ecosystem.
In the past few months, the number of projects built in Terra has been in a growth trend.
According to DeFi Llama, there are now 17 apps built in Terra. This is a relatively small number considering that Ethereum has over 500 apps and Binance Smart Chain has almost 300 apps. 
However, the value of the apps built in Terra is significantly higher than all other platforms other than Ethereum. It has a total value locked (TVL) of $13.6 billion, making it the second-biggest platform. The third one is BSC, which has. TVL of more than $12 billion. Below are the biggest apps built using Terra and their TVL:
Anchor Protocol – Mirror is the biggest app in Terra with a TVL of over $7 billion.
Lido – LIDO has a TVL of $3.4 billion.
Astroport – Astroport has a TVL of more than $837 million.
Other popular apps built using Terra are Terraswap, Mirroet Protocol, Stader, and Pylon.
Terra LUNA ecosystem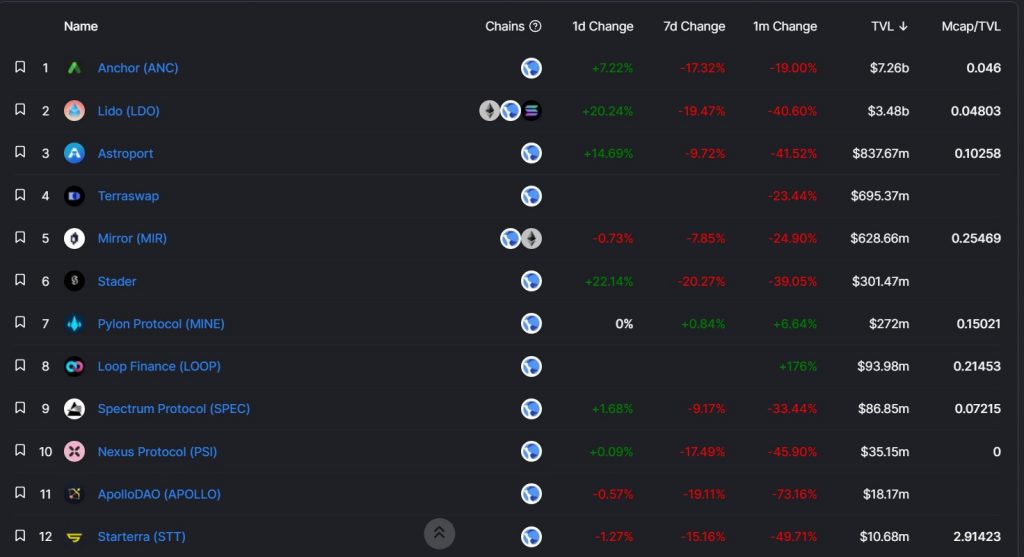 Terra price history
The LUNA price has had a spectacular performance in the past few years. It started trading at $1.70 in August 2019. Shortly after launch, the Terra price crashed by 93% and fell to a low of $0.1060 in March 2020.
Shortly after that, the Terra LUNA price started making a comeback. It rose by more than 52,000% between March 2020 and December 2021. This performance made it one of the best performing coins in the world. It even moved from relative obscurity to becoming a top ten cryptocurrency.
Why has LUNA price retreated? Terra latest news
The LUNA price has retreated by about 50% from its all-time high. There are three main reasons why this crash has happened.
First, the most recent decline is because of the crisis surrounding Wonderland, one of the DeFi platforms built using Avalanche. The crisis revolved around Michael Patryn, one of the managers of Wonderland's Treasury. A Twitter user revealed that Patryn was a co-founder of QuadrigaCX, a Canadian exchange whose users lost millions.
While Terra was not used to build Wonderland, it is possible to stake the TerraUST coin on Abracadabra's network. Abracadabra was started by a co-founder of Wonderland.
Second, the Terra price declined because of the ongoing fears about high-interest rates by the Federal Reserve. The bank has hinted that it will hike interest rates several times this year. This explains why other coins have also retreated.
Finally, the LUNA price has declined because of profit-taking as existing investors start taking profits.
Terra price prediction for 2022
"Is Terra a good investment in 2022?" This is a common question among investors.
A quick look at the daily chart shows that the Terra price has been in a bearish trend in the past few days. Along the way, the coin has managed to move below the 50-day and 100-day moving averages. This is often a bearish sign.
The coin is also slightly above the 61.8% Fibonacci retracement level. Therefore, for now, the path of the least resistance for the coin is lower, with the next key support level being at $25. Like I wrote before, it is now in a distribution phase. Therefore, LUNA is not a good investment in the first part of 2022.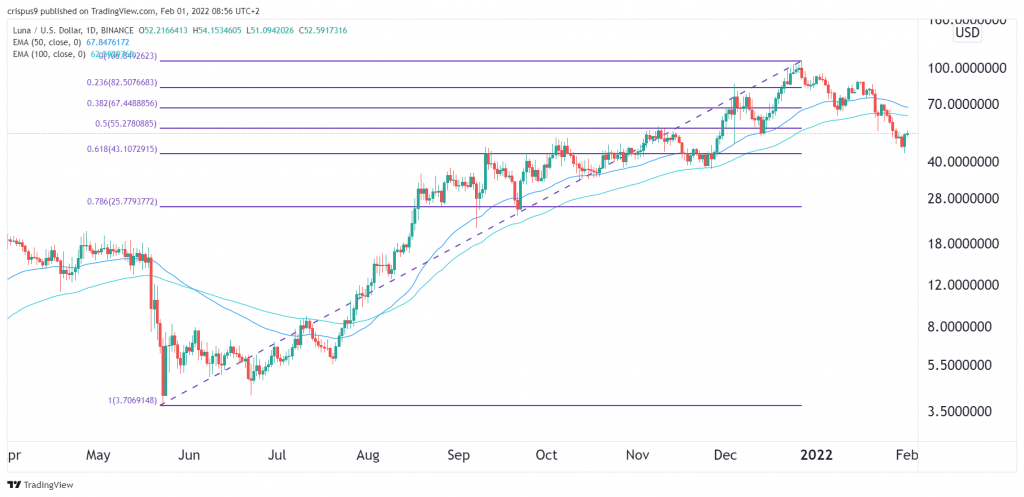 Terra price prediction 2025
According to Long Forecast, the Terra price will start 2025 at around $118, which is significantly above the current level. It will then end the year at about $111. Another report by Wallet Investor is also bullish about Terra in the long term. However, these forecasts should be taken with a grain of salt.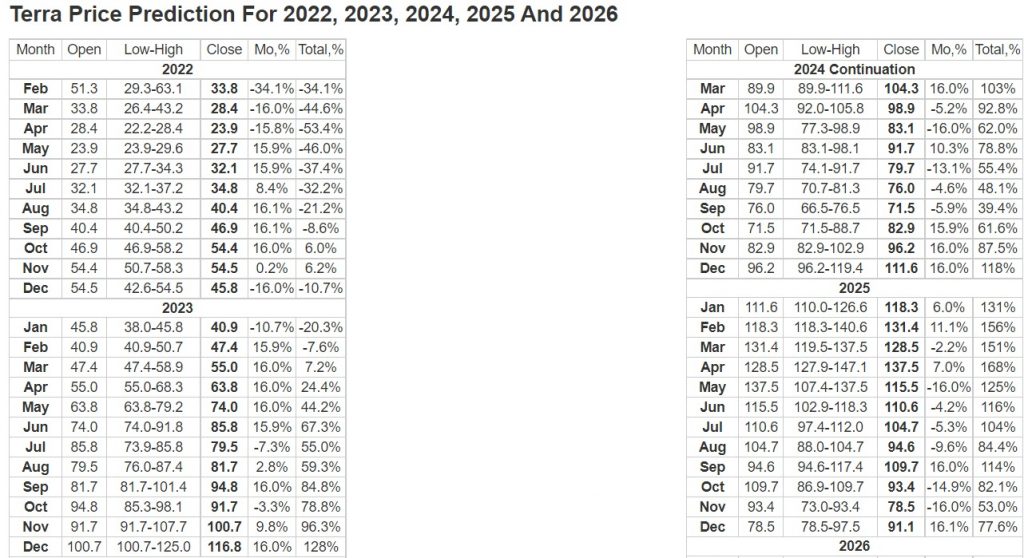 LUNA price prediction 2030
To be fair, it is relatively difficult to predict where the price of Terra or any other cryptocurrency will be in 2030. We expect that a lot of things will happen by then. What we can predict, however, is that the Terra price will be significantly higher than where it is today because of the rising adoption.
Can Terra reach $1,000? Will Terra Luna go up?
As Bitcoin has proven, nothing is impossible in the cryptocurrency industry. As you recall, Bitcoin was once trading at less than $1. Still, it is highly unlikely that the LUNA price will rise to $1,000 in the near term.
How much is Terra coin worth?
A single Terra coin is trading at about $52. The coin has a total market cap of over $21 billion based on the current price. This is according to data compiled by CoinGecko.
How to buy Terra Luna
You can buy Terra Luna using most cryptocurrency exchanges like Binance, Kraken, and Bitfinex.