Terra Luna is slowly making a comeback after the recent rebranding that saw the old and original Terra renamed to Terra Classic. The changes came after the recent 99 percent drop for Terra Luna and UST, products of Terraform Labs.
However, the new and improved Terra Luna is down by more than 70 percent, two days after getting launched on May 28. According to Do Kwon, the founder of Terraform labs, the new Luna tokens would be airdropped to investors that previously held the now defunct Luna Classic, TerraUSD classic (USTC), and Anchor Protocol UST (aUST).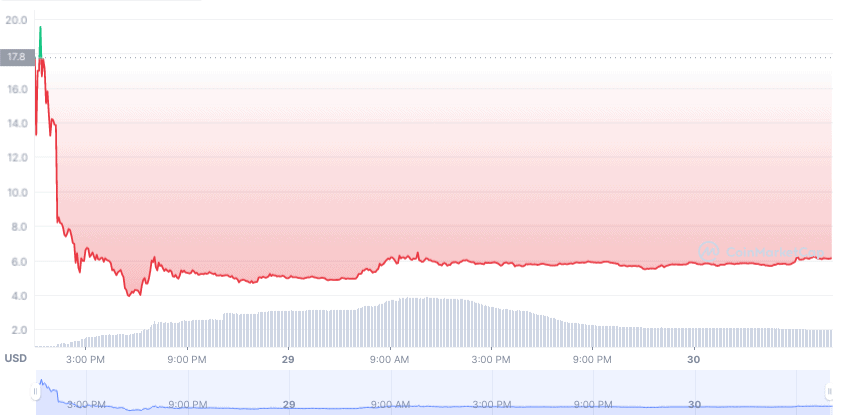 The 70 percent drop has partly been attributed to a lack of faith in Do Kwon's plan to revamp the project. However, there have also been reports of many previous investors indicating that, once they receive their previous share, they will sell the crypto in a bid to recover some of the losses they had made.
Reports still indicate that the revamp is still in its early stages. Binance, for instance, is yet to start a multi-year distribution of Luna to eligible users. The process, which is likely to start tomorrow, May 31 2022, will see some of the previous holders receive the cryptocurrency.
Terra Luna Price Prediction
Terra Luna is recently trading at $6 in today's trading. However, it is important to note that the current price surge from the previous $0.00018 is not due to improving market conditions. Instead, the surge is due to the recent relaunch of Terra Luna on May 28.
The relaunch saw Terra Luna trading above $18 in the early trading sessions of May 28. However, the prices would later come crumbling down, where at some point, the cryptocurrency was trading at $5.6. In today's trading session, Terra Luna is up by a percentage point. The crypto is also looking likely to continue with the bullish trend throughout the session.
However, much of what happens with its price depends on how the markets respond to De Kwon's revival plan. So far, many investors have expressed a lack of confidence in the crypto's revival. There is also a growing movement within the Terra community that want to sell their tokens to recover from previous losses. This has made it extremely hard for the crypto to recover. Therefore I expect the prices to continue falling. As a result, there is a high likelihood that we are looking at a drop below the $1 in the next few trading sessions.
However, if Binance Luna distribution, which starts tomorrow, improves the sentiments of Luna, then my analysis will be invalidated. It will also mean a slight improvement for the prices of Luna. A likelihood of the prices trading above $10 will also be a possibility.
Terra Luna Daily Chart