The Telcoin price has taken this weeks sell-off in its stride. So far, TEL/USDT has resisted the urge to break down. Furthermore, solid support below the market may underpin another rally. That is unless the crypto market encounters another wave of liquidations.
The likely reason that Telcoin (TEL/USDT) is in good shape after Tuesday's crypto crash is that it was already on the slide ahead of it. Whilst many cryptocurrencies were trading at cycle highs in September, and others like Solana (SOL/USD) all-time highs, TEL had been trending lower for a week. However, despite only losing 17% on Tuesday, the decline continued on Wednesday. The follow-through selling forced the Telcoin price back into a downtrend and below the 200-day moving average at $0.0179. On a positive note, by Wednesday's close, TEL was back above both important support levels. And yesterday, the Token clung to life and again finished the day higher. This shows encouraging resilience, and should the price continue to hold above support, it may well extend upwards.
TEL/USDT Price Forecast
Looking at the Telcoin vs USD Tether (USDT) chart, we see the Telcoin price broke out of its downtrend in August. Although after topping out at $0.0298 on the 23rd, TEL has been drifting south. As a result, the price has been retesting the downtrend, which is now seen at $0.1795, just above the 200 DMA at $0.0179. These two combine to create significant confluent price support. And as long as the price sustains $0.0179, the prospects are good. If the broader market continues to find support, Telcoin could advance beyond the 50 and 100-day averages, between $0.0210 and $0.026 and retest last week's $0.0260 high.
However, below $0.0179 and the outlook turns sharply negative. A close below this level suggests a breakdown, leading to a return to the July lows around $0.0100.
Telcoin Price Chart (Daily)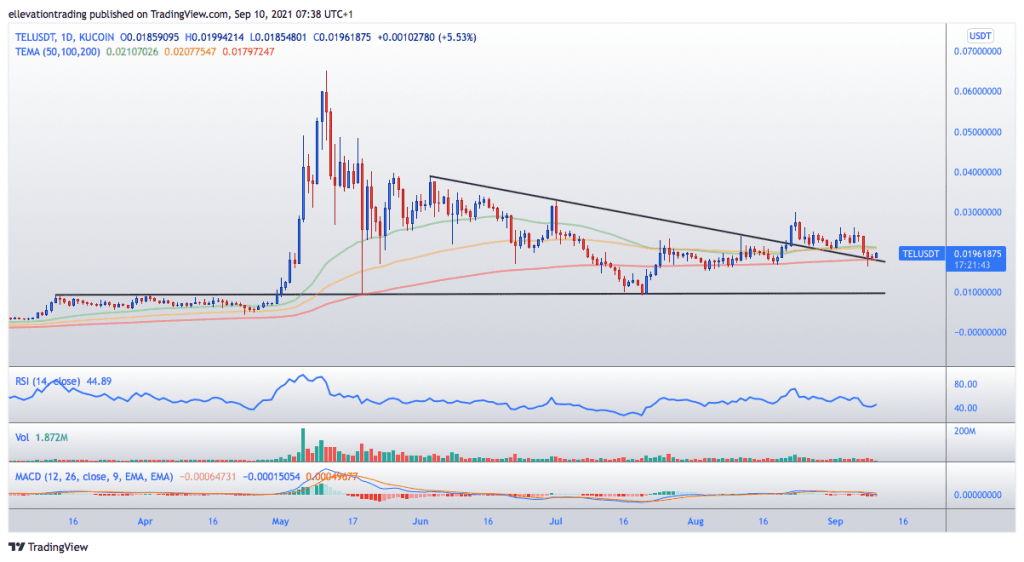 For more market insights, follow Elliott on Twitter.