Sweatcoin (Sweat Economy) has announced a Sweat Wanderer prize draw that would allow the winners to have an experience of their lifetime. Sweatcoin users can take part in the draw from their Sweat Wallet app and get a chance to explore the seven wonders of the world with all expenses born by Sweatcoin.
Sweatcoin is the native asset of Sweat Economy and is currently a top 500 cryptocurrency. It has a market capitalization of $50.3 million and a circulating supply of 5.8 billion coins. The project is backed by a loyal community of holders across all major social media platforms.
What is Sweat Wanderer?
Sweat Wanderer is a prize draw and a way for Sweatcoin to reward its loyal community. According to the official details shared by the Sweatcoin team, the winner of the Sweat Wanderer will be sent to explore the seven wonders of the world for a whole month with a +1. The prize will also include $2,000 for the winner to spend while on the trip.
How To Enter From Your Sweat Wallet App?
The entry requirements for the Sweat Wanderer draw are as under (T&C apply):
The participants need to enter the draw via their Sweat Wallet app by May 14.
They will also need to share their photos and videos online.
The participants should also be open to interviews and sharing their experiences with the press.
The following steps must be taken in order to enter the draw.
First of all, the participants will be required to download the Sweat Wallet App. The app can be downloaded by iPhone and Android users from their respective Play stores. After downloading the application, you must log in by selecting the 'Login with Sweatcoin' button in the app.

Once the Sweatcoin app opens, you need to Opt-in to crypto, and the Sweat Wallet homepage will appear in front of you. From there, you need to 'Create a new jar' and then select 12% from the top. After this, you must put at least 25 SWEAT into the jar and slide to confirm.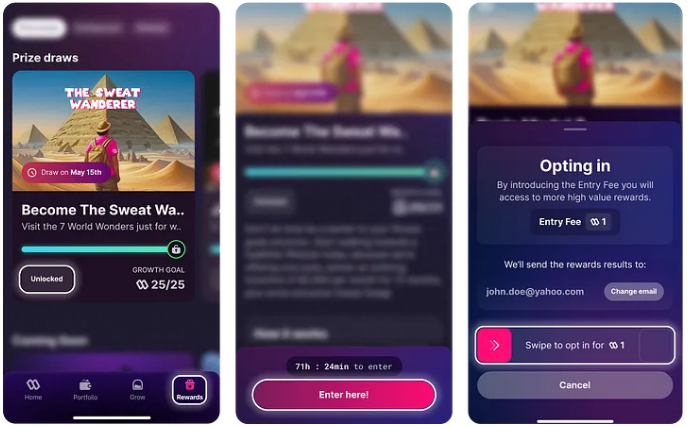 After completing all the steps described above, the participants must head to the 'Rewards' tab and click on the Sweat Wanderer banner. Before clicking 'Enter here,' you must ensure that enough Sweatcoin has been staked as described above. You can add your email after clicking 'Enter here', and then you are done.
The winner of the draw will be announced in a live stream on Monday, 15 May, at 2:00 PM UTC.