The [email protected] share price was down 7.18% at some point on the day after sellers seized control in the second hour of trading on the London Stock Exchange. The stock had traded much lower, dropping towards the 0.0800 support before the bulls clawed back most of the losses.
The decline in the [email protected] share price comes after buying momentum dried up around the 0.1054 mark in the days before the Easter holiday. The stock continues to trade in what has been a choppy session, alternating between gains and losses for the day. 
The London-based inventory monetization platform recently concluded a conversion of an outstanding 178,333 pounds worth of convertible loan notes into shares. The conversion followed the receipt of a conversion notice from Mercator Capital Management Fund LP and was done for 0.056 per share. The total value of the conversion in terms of the number of stocks came to 316.4 million shares. The loan notes were issued on 2 February. With the conclusion of the conversion, no loan notes are outstanding.
The progressively lower highs on the daily chart indicate that the buying momentum has stalled and could give way to additional selling pressure. The intraday decline has violated the ascending trendline, connecting the recent lows. However, the bulls have roundly rejected this decline at the 0.0800 support line.
The bounce has also violated the 0.0900 resistance, and the price action continues to oscillate from winning to losing positions on the chart. Presently, the candle remains above the 0.0900 resistance and the trendline. There must be a confirmed breakdown of the trendline to make 0.08 available as the immediate target. Below this level, 0.0604 (9 March 2022 low) and 0.0473 are additional targets to the south.
On the other hand, if the price action fails to break down the 0.0900 price mark and the ascending trendline, a push towards 0.1054 (4/14 April highs) seems inevitable. An advance beyond 0.1052 brings 0.1218 into the picture. Additional targets to the north are seen at 0.1492 (18 February 2022 highs) and 0.1600 (21 January high).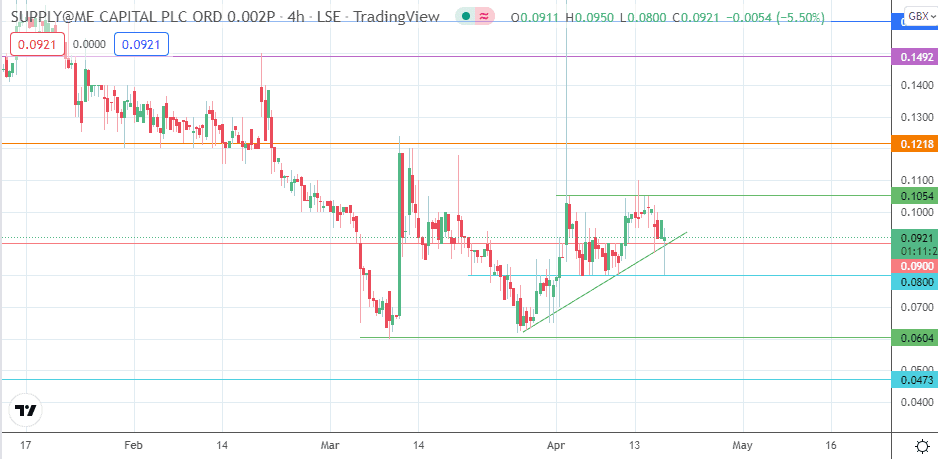 Follow Eno on Twitter.