The Virgin Galactic stock price (SPCE) has recoiled in the past few months. The shares are trading at $8.73, which is the lowest it has been since December 2019. They have also crashed by 86% from their highest level in 2021. With these steep price slides, private investors are flocking to the SPCE stock as they hope for a rebound. But will it be a great investment? That is what we try to unearth in this SPCE stock forecast.
The space industry overview
Virgin Galactic is one of the leading players in the space industry. The company hopes to become the biggest firm as the space tourism industry grows. Also, analysts believe that the industry will keep growing in the coming years which explains why retail traders have a positive SPCE stock forecast.
For example, a recent study estimated that the space sector was worth about $885 million and that it will have a compounded annual growth rate (CAGR) of 16.3% by 2027. It is estimated that the industry will be worth over $2.5 billion by 2027.
The space industry is an intensive capital sector because of the vast amount of research and development (R&D) needed. For example, a company like Virgin Galactic was started in 2004 and is yet to start commercial trips.
The same is true with other competitors like SpaceX and Blue Origin, building their projects in more than a decade. Therefore, it has a barrier to entry, meaning that it will be an oligopoly.
Why has the Virgin Galactic stock crashed?
The SPCE stock price has crashed by more than 86% from its all-time high. There are several reasons for this. First, the decline is in sync with the performance of other meme stocks that did well in the first half of 2021. For example, stocks like ContextLogic, GameStop, AMC, and Clover Health crashed by double-digits from their all-time highs.
Second, the SPCE share price has declined because of the rising fears of high-interest rates. The Fed has hinted that it will implement three rate hikes this year and end its quantitative easing program. Historically, high-growth and unprofitable stocks tend to underperform in a period of high-interest rates.
Third, Virgin Galactic's losses have kept rising. The company lost more than $644 million in 2020. It has made losses of over $376 million in the past four quarters. As shown below, the company's profitability has nothing good to write about. Besides, the company has not yet started its space trips, meaning that it has limited revenue.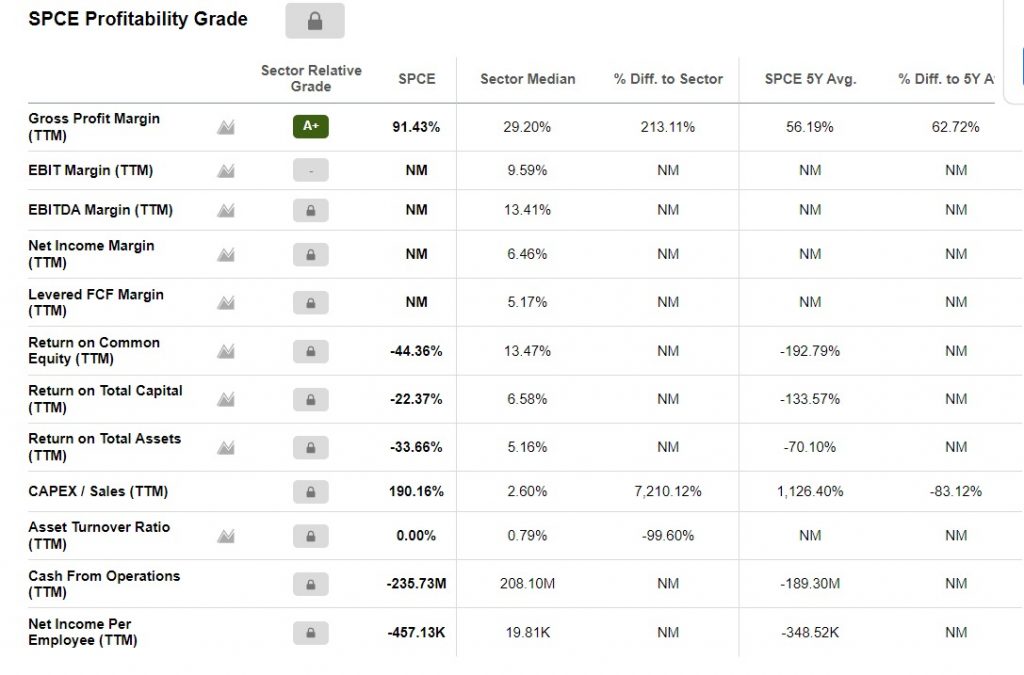 Fourth, the Virgin Galactic stock declined because the company delayed its commercial flights to later in 2022. There is also a likelihood that it will delay its flights again, causing the spce stock forecast to be bearish in the short term.
Finally, the SPCE stock price has crashed because of the weak sentiment among SPAC stocks. Multiple reports have suggested that most SPAC stocks have lagged the S&P 500.
Latest Virgin Galactic news
Virgin Galactic has not made any meaningful headlines recently. The only important news about the company was in January when the company raised $450 million in convertible senior offerings.
Another significant event was that Virgin Orbit went public in New York and that the company is now valued at more than $2 billion. Like SPCE, Virgin Orbit is part of Richard Branson's Virgin Group.
The next potential catalyst for the stock will be the company's earnings scheduled for February 22 this year. Analysts expect that the company made $444k and a loss per share of 36 cents. Still, analysts will be looking at the company's reservations. It has about 700 reservations and expects the number will rise to 1,000 by the time it launches regular flights.
Virgin Galactic stock price history
After merging with Chamath Palihapitiya's SPAC, Richard Branson's Virgin Galactic went public in October 2019. The stock initially jumped to a high of $42.58 in February 2020.
Like all shares, the stock declined sharply when the WHO declared Covid a global pandemic. At the time, it slipped to a low of $9.50. The shares then jumped to an all-time high of $62.91in February 2021 as they became a favourite among retail investors. After crashing hard, the stock jumped again to a high of $57.40 in July 2021 and has been in a major sell-off since then.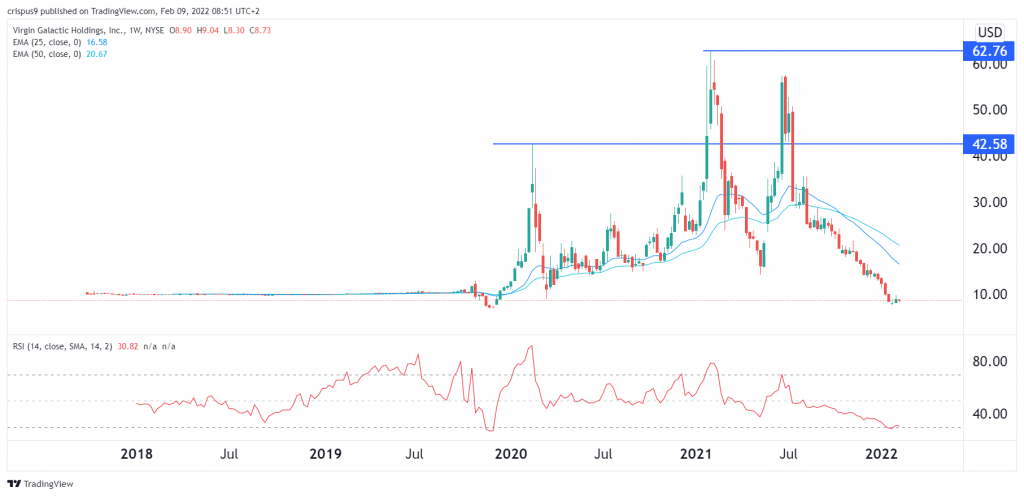 Is SPCE a good investment?
So, is Virgin Galactic a good stock to invest? There are several ways to answer this question. First, we can look at the company's expected revenue if everything went on perfectly. As mentioned, the company has secured about 700 reservations, and it hopes to grow the number to 1,000.
Therefore, since ticket sales go for $450,000, it means that the company's revenue will be $450,000 if it achieves its 1,000 target. As a result, the company expects to generate $1 billion per year in revenue per spaceport.
Still, all these numbers should be taken with a grain of salt for two reasons. First, it is a new industry, meaning that it is a bit difficult to model demand. Second, since it is a small industry, it will become highly competitive as companies like SpaceX and Blue Origin fight for market share.
Therefore, from a fundamental perspective, it does not seem like Virgin Galactic is a good investment because of its narrow path to profitability.
Virgin Galactic analysts estimates
According to Webull, analysts' average estimate of the Virgin Galactic stock price is at $21.55, which is higher than where it is today. On the other hand, the average estimate compiled by Marketbeat is $30. These estimates are so high because most of them were made when Virgin was a high-flying company. Indeed, as shown below, most analysts have downgraded the SPCE stock price recently.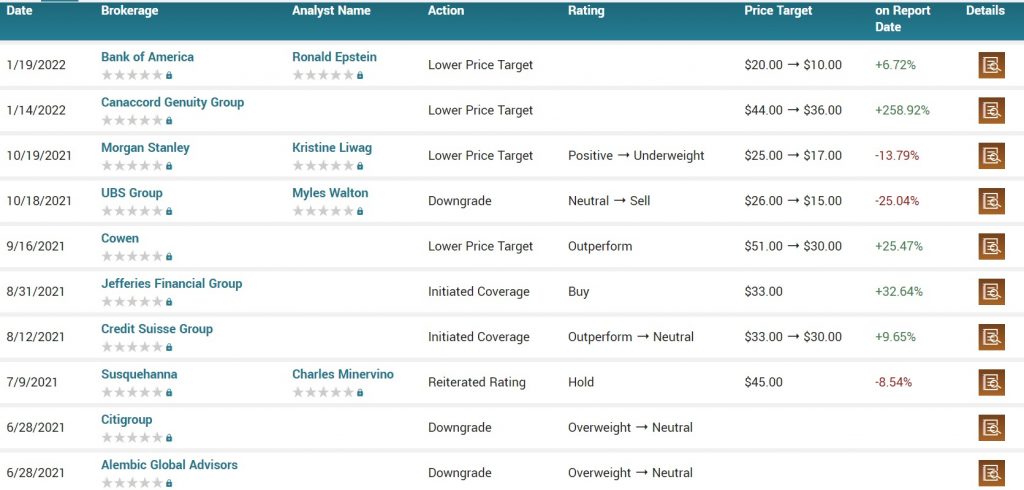 SPCE stock forecast 2022
Turning to the weekly chart, we see that the SPCE share price has been in a strong bearish trend in the past few months. As a result, the stock has crashed below the short and long-term moving averages, which shows that bears are currently in control.
Another notable thing is that the Relative Strength Index (RSI) and Stochastic Oscillator have moved to the oversold level. The accumulation and distribution indicator has also crashed to an all-time high.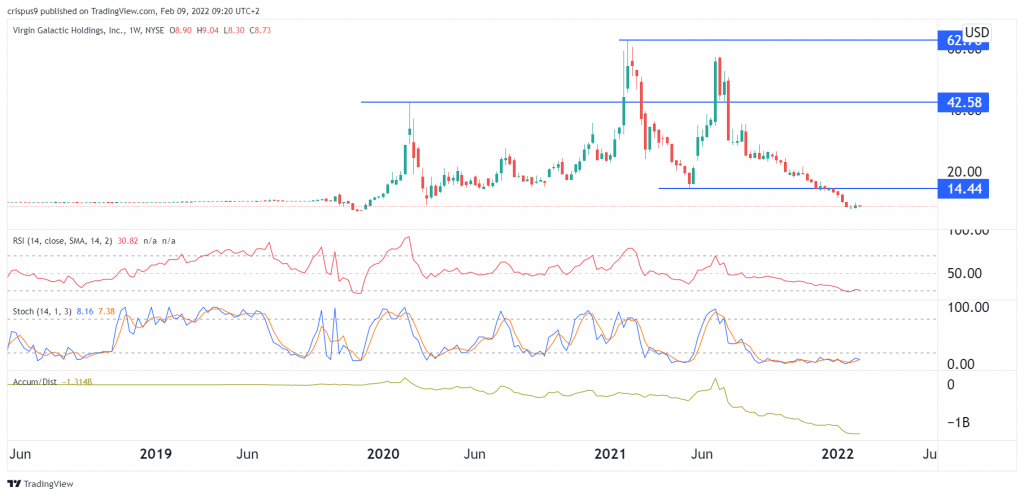 Therefore, since retail investors hold a big chunk of the stock, a bullish rebound cannot be ruled out in 2022 as they buy the dips. If this happens, the stock will likely soar to about $14.40, which was the chin of the double-top pattern. Indeed, as shown below, the company's short interest has been in a downward trend. The invalidation point for this view will be if the stock moves below $7.

Summary: is SPCE stock a buy, sell, or hold?
This article has looked at what Virgin Galactic does, its key competitors, and explained why its stock has been in a major sell-off. We have also noted whether it is a good investment now that it has moved to the oversold zone.