The S&P 500 index opened Tuesday's trading on a higher note, as shares of Nike and Micron surged on better-than-expected earnings. However, the index appears to have lost some of its earlier momentum and has shed some of its gains.
The S&P 500 index had lost ground on Monday after Democratic Senator Joe Manchin said he would not support President Joe Biden's Build, Back, Better spending bill, taking away the crucial majority that Democrats had to pass the legislation and making it unlikely that the bill would pass before the Christmas break. Fears of the Omicron variant's impact on the economy and the downgrade of the US economic recovery outlook by Goldman Sachs also took their toll on the index.
However, with Moderna announcing that its booster shot raised antibody titers in vaccinated persons, and splendid earnings by Micron and Nike, the S&P 500 is back to winning ways, at least for now.
SP500 Outlook
The upside gap of Tuesday met resistance at the triangle's lower border, and has tracked down slightly. This move also preserves the 4600.31 psychological resistance. This scenario favours a resumption of the downside move towards the 4544.65 support. 4480.90 and 4422.92 make up the additional support targets for the bears.
This outlook is negated if the bulls are able to break the 4600.31 resistance. This move targets the 4660.19 resistance, before the 4715.99 barrier formed by the 5/16 November and 10 December lows comes into the picture. 
SP500: Daily Chart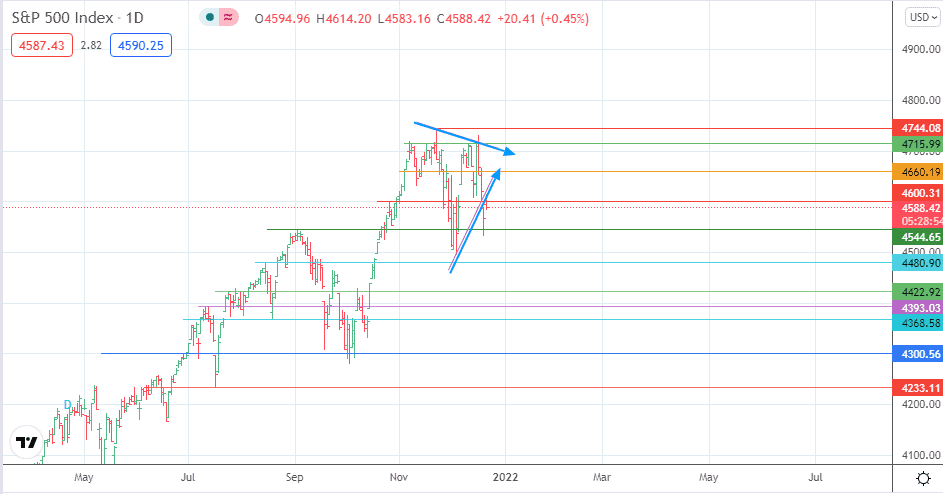 Follow Eno on Twitter.