The S&P 500 share price outlook is decidedly negative. The immediate trigger for the selloff, which has been on all week, is the increased threat of war between Russia and Ukraine. On Tuesday, Russia recognized the breakaway regions of Donetsk and Luhansk as independent states, then moved in tens of thousands of soldiers, tanks, and armaments into the regions as part of what the Kremlin is calling a peacekeeping operation. 
S&P 500 latest news
The world was also given a ringside seat to a lesson on intimidation from Russian President Vladimir Putin. President Putin grilled a visibly frightened Director of Foreign Intelligence, Sergey Naryshkin, in a video that has since gone viral. Unfortunately, the shaken spy chief may have inadvertently given away the true intentions of Moscow in that exchange, and it has sent buyers on the S&P 500 to the exit door. The S&P 500 index is now trading 0.58% lower and on course for the fourth day of steep losses. 
Even before the Russian quasi-invasion of Ukraine on Tuesday, the S&P 500 share price outlook was already trending downwards as the markets prepared for an end to cheap money from the Fed and a tightening of monetary policy. Last month's jobs numbers and the 40-year high in consumer inflation have the markets tilting towards an aggressive 50-point move from the US Federal Reserve. The US markets have been propped for the past two years with cheap capital from various funding windows provided by the Fed in response to the pandemic. With the S&P 500 index now more than 10% below its 3 January record close, it is now in correction territory. 
S&P 500 Index Outlook
Wednesday's decline in the S&P 500 index has violated the 4300.56 psychological support (also the 6 October 2021 and 28 January 2022 lows). A 3% penetration close below this support confirms the breakdown of this price level and opens the door towards the 4233.11 support (19 July 2021 and 24 January 2022 lows). A further decline below this level approaches the 3/18 June 2021 lows at 4168.38. 4122.57 and 4062.10 are additional targets for the bears if price deterioration continues.
On the flip side, 4368.58 and 4393.03 are the immediate upside targets that come into view if there is a reversal of the current bearish sentiment. A further advance pits 4422.92 and 4480.90 in the crosshairs of buyers. However, there needs to be a substantial change in market bias to make these additional targets viable.
SP 500: Daily Chart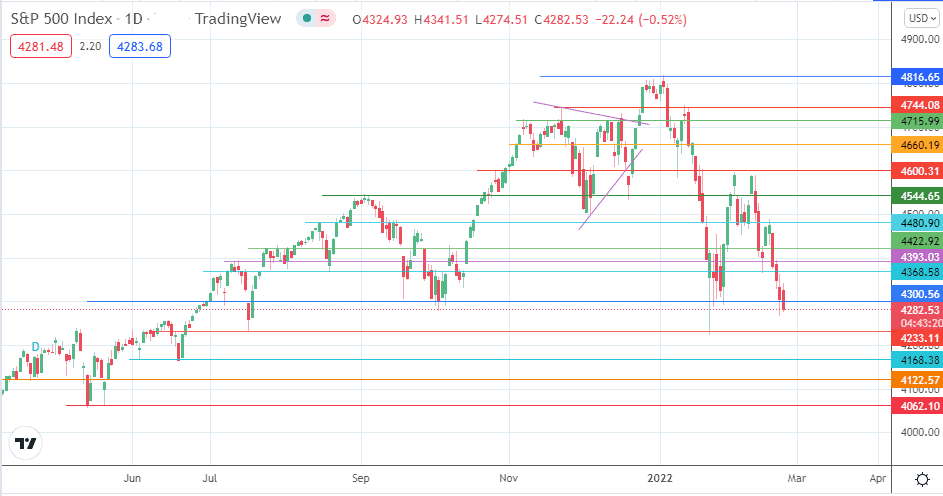 Follow Eno on Twitter.