Silver price held steady on Monday morning as investors attempted to buy the dip and as the US dollar strength eased. The XAU/USD price is trading at $18.80, which is a few points above last week's low of $18.11. This price is about 17% below its highest point in June this year. Other commodity prices like palladium, platinum, and gold have all pulled back recently.
Recession risks
Silver is an important precious and industrial metal that is used widely in the manufacture of jewelry, cookware, computer chips, and solar panels. It does well in a period when the global economy is performing well since this leads to more demand. Recently, however, there have been concerns about the global economy as risks have remained elevated.
For example, companies like China, the United States, and those in Europe are seeing a significant slowdown. For example, data published last week showed that China had its worst slowdown since 2020 because of lockdowns. Unfortunately, this trend will continue since China has locked down some large cities as it continues its Covid zero strategy.
Silver price has also sold off because of the relatively strong US dollar. The dollar index surged to $108, which was the highest point in over 20 years. It has risen against all developed and emerging market currencies except the Russian ruble. Historically, a strong dollar tends to lead to weak silver prices. Therefore, a combination of more supplies, a strong US dollar, and slow global growth means that the price of silver will struggle in the near term.
Silver price forecast
The four-hour chart shows that the silver price has been in a strong bearish trend in the past few months. The sell-off gained steam when the price moved below the important support level at $20. It has crashed below the 25-day and 50-day moving averages. The metal is now attempting to do a break and retest pattern by rising to the important resistance point at $18.91.
Therefore, there is a likelihood that the XAG/USD price will resume the downward trend since a break and retest pattern is usually bearish. If this happens, it will likely fall back to the important support at $18. A move above the resistance at $19.20 will invalidate this view.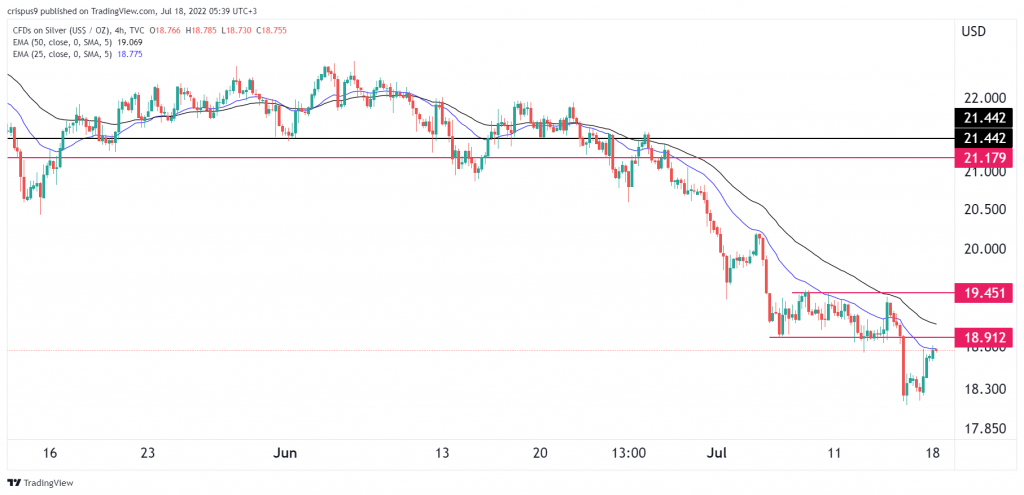 XAG/USD S&R levels
InvestingCube's S&R indicator is a highly accurate tool that is used by thousands of traders every day. The indicator has a bearish outlook for silver prices. Its targets for the metal are at $18.22 and $18.18. The stop-loss for this trade is at $19.33. You can subscribe to the indicator for signals on key assets.