Our Siacoin price prediction significantly depends on how the price battles with the key support at $0.007. This support has become very critical as the SC coin price has bounced off this level multiple times. Nevertheless, anyone with basic TA knowledge could tell that support may break eventually when tested many times. For any signs of reversal, the price needs to flip the level of $0.0125 into support making a higher high.
What is Siacoin?
In the modern world, digital data has become one of the biggest assets. While most users prefer to store data on personal devices, many also have to opt for other solutions. Current storage solutions like Google Drive, Amazon Web Services, and Dropbox store data on centralised servers. While such industry giants claim a high degree of security, their centralization still makes them vulnerable. Therefore, any Siacoin price prediction also depends on how it performs against its decentralized storage competitors like Filecoin.
To solve this problem, Siacoin has emerged as one of the top decentralized solutions. Siacoin is a decentralized network that connects people with unused storage to those who need storage space. Siacoin works by distributing every file into tiny pieces across its network. In this way, the network avoids any single point of failure, unlike its centralized counterparts. Another feature of Siacoin crypto is that it encrypts any data before storing it. In this way, data is much more secured, avoiding any data leaks or tampering.
Founders and Project History
David Vorick and Luke Champine are known to be the founders of Siacoin. The project began in 2014 under the hood of Nebulous Inc. The team raised $1.25 million in its initial funding. Two more funding rounds in 2019 and 2020 allowed the team to raise another $6.5 million.
Nebulous rebranded to Skynet Labs in 2020 to develop an open protocol for decentralized storage and applications. Sia coin is the native currency of the decentralized storage network. Hosts need to deposit Siacoin as collateral, and the renters also have to pay in Siacoin to rent storage. In this way, the Saicoin crypto network provides the world with a low-cost and much more secure storage solution. Storage on Siacoin is around 90% less than other centralized solutions. Before moving on to our Siacoin price prediction, let's look at its adoption stats.
Latest Siacoin News
Siacoin price is currently trading at $0.0086 and sitting at a market cap of $440 million. This makes SC crypto the 156th biggest asset by market cap. Not long ago, Siacoin was among the list of top 50 cryptocurrencies, but the slow adoption has pushed it lower.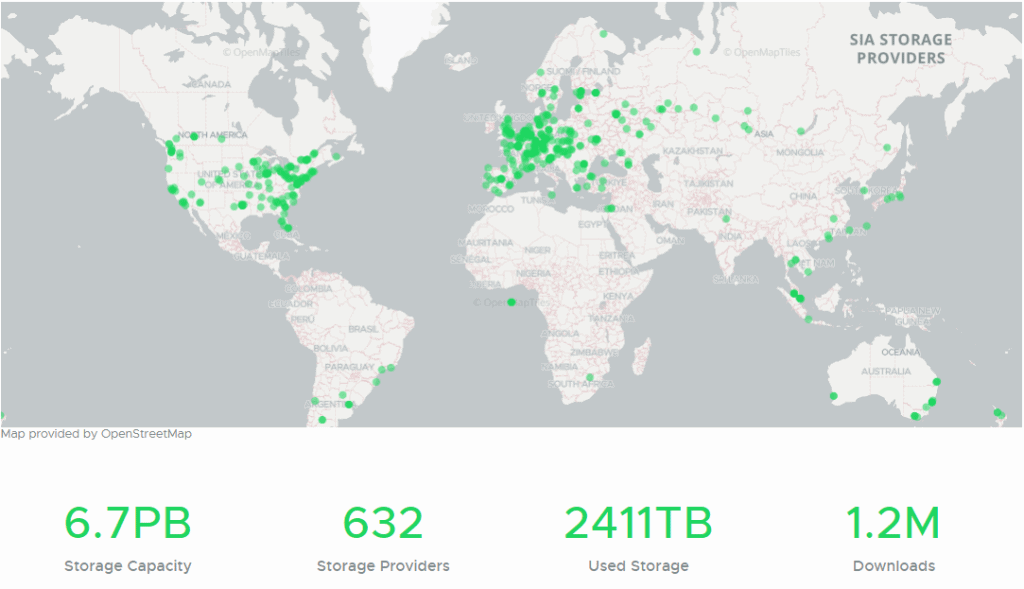 As per the latest Siacoin news today, the network currently boasts a storage capacity of 6.7 PB. However, most of this storage is unused as the used storage stands at only 2411 TB. A total of 632 storage providers are connected to the network. Storage hosts and clients can interact with the Sia network by downloading the desktop app. The app currently has more than 1.2 million downloads.
Siacoin Price Prediction 2022
Technical analysis of the Siacoin chart presents a very bearish outlook. Siacoin price is currently battling key support of $0.007. Although the price has bounced off this level multiple times, those bounces have been short-lived. At the time of writing, the SC coin is trading at $0.0086. This is nearly 91% below its January 2018 ATH of $0.09. Siacoin is one of the oldest cryptocurrencies which are still relevant. Nevertheless, while most cryptocurrencies made their new highs in 2021, Siacoin failed to break its 2018 ATH.
If Siacoin doesn't hold the $0.007 level, things could turn ugly for the storage coin. In such a bearish scenario price could plummet 50% from current levels to test the support at the $0.0038 region. Any bullish Siacoin price prediction would be valid only if the price sees a big bounce with massive volume in the short term. If this happens, a price target of $0.04 seems achievable before the end of 2022. This would also mean a 5x from current price levels.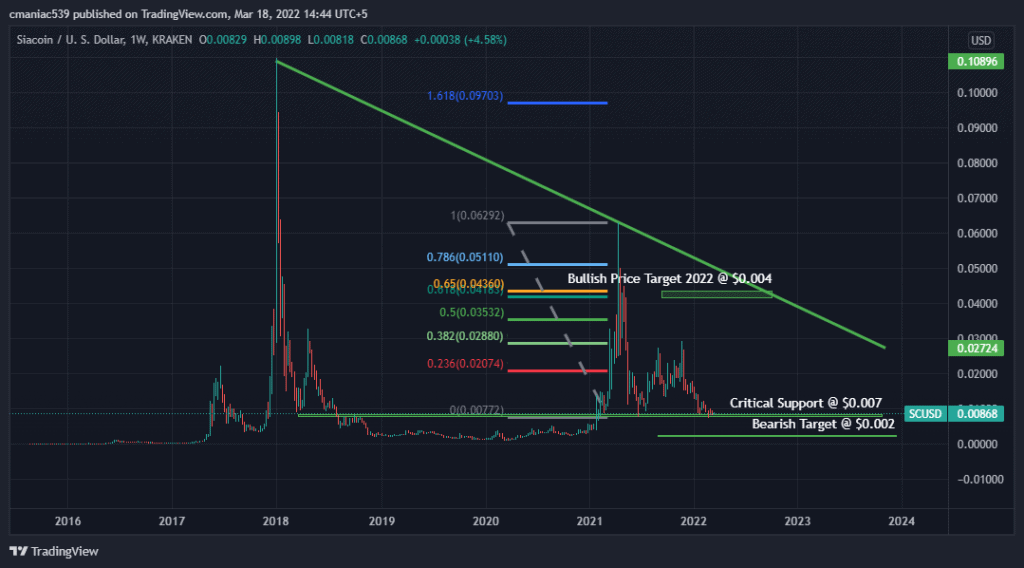 Many people still find it convenient to store data on centralized servers. This is due to the fact that many people still find it difficult to manage their digital assets on blockchain.
Siacoin Price Prediction 2025
It is a very difficult task to predict the price of any asset three years from now. It becomes even harder when the asset under consideration is a cryptocurrency. Therefore, the price action of any cryptocurrency within the next three years is anybody's guess. However, we can still consider certain bearish and bullish scenarios to take a shot at Siacoin Price Prediction 2025.
A look at the historical data on Coinmarketcap suggests that many big projects failed the test of time. Many cryptocurrencies with billion-dollar market-caps in the 2017 bull-run failed to remain relevant in the following years. Due to this reason, many people have lost faith in Siacoin. Nonetheless, the team still seems quite committed and constantly develops the network. If decentralized storage goes mainstream, Siacoin crypto could become the UBER of data storage by 2025.
In such a bullish scenario Siacoin price might target another all-time high by 2025. This could make price levels as high as $0.2 a reality. The level is also in alignment with the 3.618 Fib retracement level from $0.09 ATH. It seems highly unlikely for Siacoin to hit $1 as its circulating supply is more than 50 billion.
Is Siacoin a Good Investment?
We have already discussed all the key aspects of Siacoin. If you're still wondering 'Is Siacoin a good investment', you must first determine your risk tolerance. If you really think that decentralized storage is the future, then Siacoin might be a good addition to a long-term portfolio. However, it would be better to wait for a proper reversal before entering any position. Even our Siacoin price prediction needs such a reversal to happen in the short term.
After months of being in a bear trend, at least a short bullish swing might be around the corner. So if Bitcoin price makes a higher high this year, similar price action could be considered from Siacoin. However, in the long run, Siacoin might also have to face intense competition from similar projects like Areweave, Coldstacks, Filecoin, etc.