Bearish Siacoin price predictions are playing out this Thursday, as the cryptocurrency market suffered yet another crash on Wednesday night. Russian forces' full-scale invasion of Ukraine has triggered a selloff in risky assets, prompting a great hit in the cryptocurrency market.
Bitcoin, Ethereum, and several altcoins such as Siacoin have been caught up in the bloodbath. The relentless 4-month slide in the crypto market has cleared $1.4 trillion from the market's market capitalization. Cryptoglobe reports that the latest incursion to the downside liquidated nearly $400m in crypto long positions.
Saicoin latest news
Siacoin has lost 10.24% of its value this Thursday, which combines with Monday's 7.14% drop and Thursday's 4.44% slide to create a 17.1% drop in price this week alone. The Siacoin price prediction is for the SC/USDT pair to incur a third week of losses if the current trend continues.
However, it is not all doom and gloom for Siacoin. Those who have bullish Siacoin price predictions may benefit from the slump if they see it as an opportunity to snap up this token at lower prices. However, it would appear that there could be more selling to come before bullish momentum pours in.
Siacoin Price Prediction
The recent decline in the cryptocurrency market has pushed the SC/USDT pair below the 0.00895 support level. This breakdown move opens the door towards the next target, formed by the 0.00568 support level. Additional support targets exist at 0.0039 and 0.00227. These will enter the picture if the current price deterioration becomes more extensive.
On the flip side, hopes for recovery will heighten if a price bounce takes the price above the descending trendline, which intersects the 0.00895 resistance. This move would clear the way for a run towards 0.01429, above which 0.01726 and 0.02094 become additional upside targets. However, only a break above 0.02406 will switch the market sentiment from the current negative bias. Until this happens, any rallies to resistance will be seen as opportunities to initiate new short orders. 
SC/USDT: Daily Chart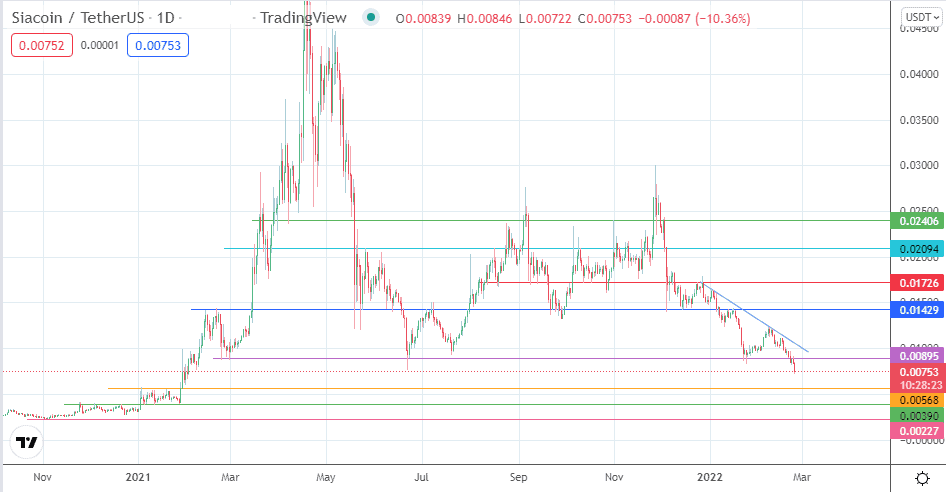 Follow Eno on Twitter.