The unveiling of Shiba Inu's Metaverse project has done very little to help the cause of Shiba Inu price predictions. As a result, the upside move following the break of the triangle has proven to be an underwhelming one. This is despite the addition of Shiba Inu as a mobile payment solution to PayRange Inc. This will allow users to pay for items on vending machines across the PayRange network using Shiba Inu.
The Shiba Inu team recently unveiled the details of its Metaverse project known as Shibverse. This has drawn criticism from Dogecoin founder Billy Markus. Markus believes that Shibverse does not enhance Shiba Inu's utility and represents an avenue for additional cash-grabbing from developers. Markus's comments may have soured investor sentiment on the SHIB/USDT pair. On a day when the general crypto market is marginally higher, Shiba Inu is down 1.12% as of writing.
Shiba Inu Price Prediction
The breakout from the triangle has been unable to hit the completion point of the measured move as the price action has stalled at the 0.00002715 resistance. Therefore, the bulls must take out this barrier for the price to ascend towards 0.00003092.
The 7 October 2021 and 7 February 2022 highs at 0.00003503 is the next barrier to the north, and attainment of this level marks the completion of the measured move from the triangle break. 0.00004054 and 0.00004503 (3 December 2021 high) are additional northbound targets available if the bulls push an advance beyond the measured move.
On the other hand, rejection at the 0.00002715 resistance brings the 0.00002347 support into the picture as the immediate downside target. If the price decline continues below this level, 0.00001810 (22 January 2022 low) enters as the next target to the south. Only a severe price deterioration makes 0.00000103 a viable downside target.
SHIB/USDT: Daily Chart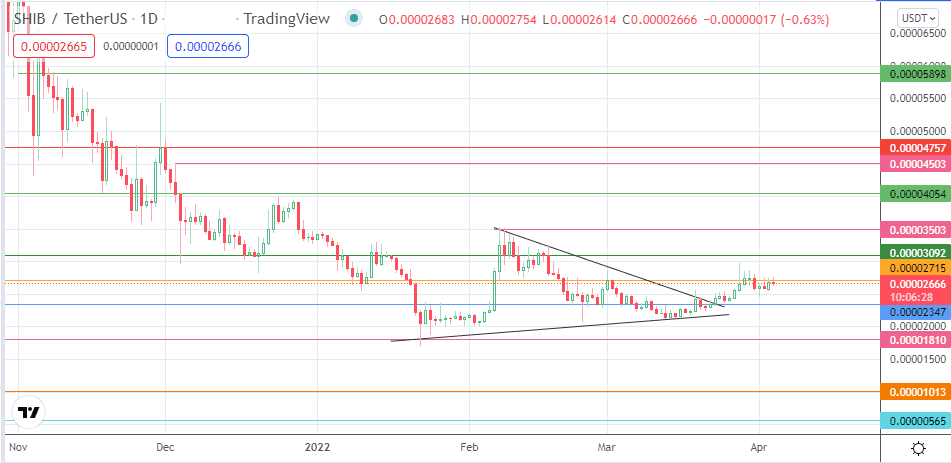 Follow Eno on Twitter.