The Shiba Inu coin price prediction got an upside boost on Saturday when the SHIB/USDT pair soared 8.06%. However, hopes that this move would break the evolving symmetrical triangle were dashed when the market took a breather on Sunday, losing 4.23%. This Monday, the crypto market is off to a sluggish start, and the SHIB/USDT pair is off 1.04% as of writing.
These price movements continue to occur within the evolving symmetrical triangle. Shiba Inu added more than 7% in the previous week, boosting bullish Shiba Inu coin price predictions of a potential reversal of the downtrend that commenced in November 2021. A possible bullish trigger emerged last week when AMC Entertainment, the largest movie theatre chain in the world, announced it would start accepting payments in Dogecoin and Shiba Inu.
Payment transactions for tickets to AMC Theatres events will run on the BitPay app. This development was made public via a tweet by the CEO of AMC Theatres, Adam Aron. The payment channel opened on 19 March, with the mobile app coming on stream on 16 April. With the pair now challenging the triangle's upper border of the triangle and the 0.00002347 resistance, here is the Shiba Inu coin price prediction for the week.
Shiba Inu Coin Price Prediction
The triangle's evolution will determine the direction of price activity for the week. A break of the 0.00002347 resistance also breaks the triangle's upper border and opens the door for a push towards 0.00002715. A continuation of the advance sends the pair towards 0.00003092 before 0.00004054 and 0.00004757 come into the mix as additional northbound targets. Attainment of 0.00004054 completes the measured move to the north, and the 0.00004757 resistance only becomes viable if the price activity advances beyond the completion point of the measured move.
On the other hand, if there is rejection at 0.0002347 followed by a pullback that breaks down the triangle's lower border, 0.00001810 becomes the immediate downside target. A continuation of the decline below this support level targets 0.00001013 before 0.00000565 enters the mix as an additional southbound target. The latter becomes the measured move's completion point if the pattern functions as a continuation pattern, thus invalidating bullish Shiba Inu coin price predictions.
SHIB/USDT: Daily Chart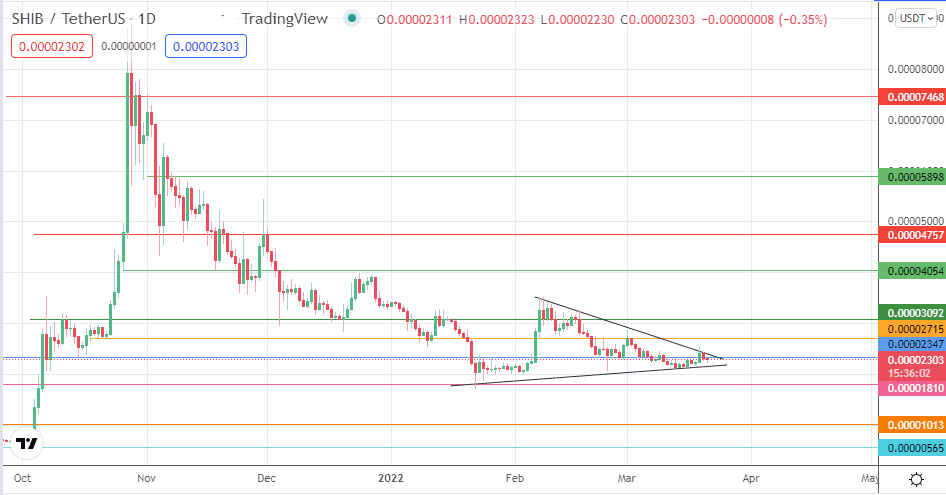 Follow Eno on Twitter.