After a bearish start of the year, Serco share price appears to be making a comeback. Last week, the price fell below the May 2022 low of GBP £146 and reached £145.2. However, the bulls were quick to react and bought the dip. Consequently, the price has increased by 6% since then and now trading at £153.8.
Serco Group PLC is trading on London Stock Exchange under the ticker symbol SRP. On Wednesday, Serco stock price opened at $147.5 and hit a high of $154.2. However, the price had a minor correction at the end of the trading session as investors took some profits. The price closed at £153.3.
Serco Share Price Chart
Serco share price appears to have been downtrend since the 2022 high of £199. There seems to be a strong demand below £150 level, due to which the price has seen multiple bounces from this level. If the price breaks this level then it could get some support from the 2022 low of £118.9.
However, if the positive price action continues, then I expect Serco share price to retest the downward trendline around £160. Bulls need to break out of this trendline to aim further upside. Considering the global macroeconomic scenario, such a breakout seems unlikely as the interest rates are still very high.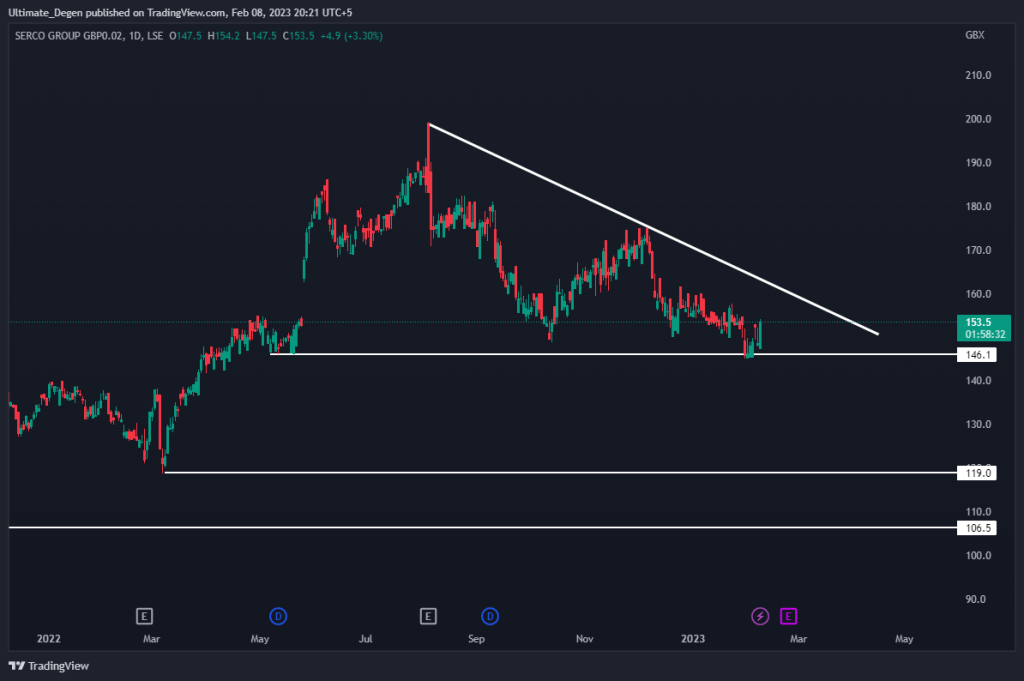 Serco Partners With The Giving Movement in the Middle East
According to recent Serco news, the company has partnered with the middle eastern company The Giving Movement. This partnership aims to provide the Serco staff with eco-friendly and sustainable activewear. Serco has around 4,500 workforce in the region that will benefit from this partnership.
At the initial stage, The Giving Movement will design polo shirts. The partnership will be extended to other outfit categories in the future. This unique partnership was announced at the Sustainability Pavillion of Expo City Dubai. This exhibits the company's long-term commitment and focus towards sustainability in the region. Serco middle east is also taking many other initiatives in the domain of Environmental, Social, Governance (ESG) as it works closely with the local organizations.