Sandbox game has notified its email subscribers about the latest phishing campaign. In the medium articles published today, the metaverse project shared details of the hack that took place in February. In the phishing attempt, an email was sent to Sandbox crypto users with a malicious link.
Sandbox is a virtual reality metaverse game that leverages blockchain technology to provide digital ownership. It is now of the biggest metaverse projects in crypto, along with Decentraland. SAND is the native asset of the ecosystem which trades against other cryptocurrencies on all major exchanges.
Sandbox Email Gets Hacked
As per the latest Sandbox news, the laptop of a company employee got hacked by a third party. The hacker accessed the user emails and sent a phishing email from Sandbox. After the incident, the project took security measures by formatting the affected laptop and sending another email to the users.
Phishing is a malicious practice in which internet users are sent links to fraudulent platforms which apparently look legit. Any interaction with such links gives the hackers control of the respective devices. These scams have become very common in crypto as web3 users have hot wallets on their computers. Therefore, access to the device makes all the wallet funds vulnerable.
SAND Cryptocurrency Turns Red
As mentioned earlier, SAND is the native asset of Sandbox Game. It is currently one of the biggest gaming cryptocurrencies in the whole industry. On Thursday, the altcoin is trading at $0.68 after showing a negative price action within the last few days.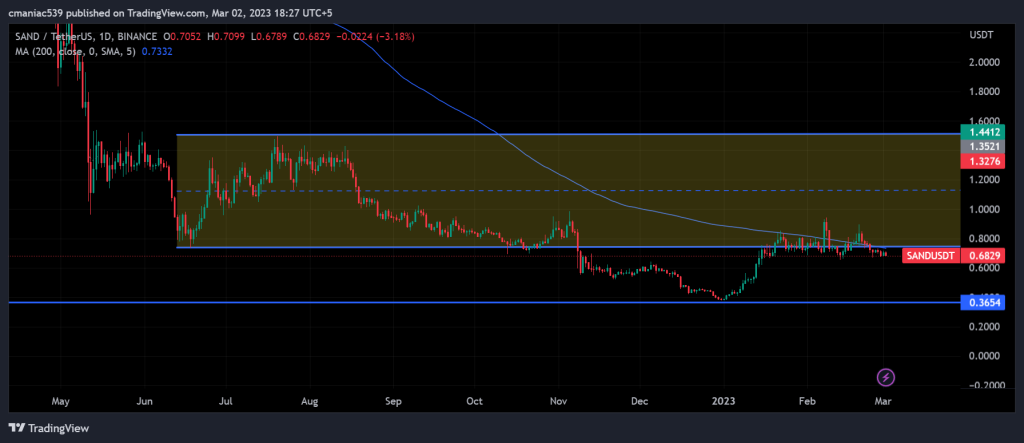 The following chart shows that Sandbox crypto has been trading sideways for months and retesting a key resistance. The price has broken below the 200-day moving average, which has made things bearish. The $0.74 level has become a huge resistance since the price broke below it in November 2022.
A reclaim of this level can send the SAND price much higher. The ongoing negative price action can also be attributed to the corresponding slump in Bitcoin and Ethereum prices.