This Thursday, the Royal Mail share price is on a roll after the company said it would pay out £400 million to shareholders after Covid-19 lockdowns boosted its online deliveries.
A company statement said that 50% of this amount would be used to buy back shares from shareholders, while the other half would be paid as a special dividend.
Royal Mail Group boss Simon Thompson also reassured consumers that there would be no disruptions to shipping during the Christmas holiday period. He also assured that the company was well hedged against soaring fuel costs. 
Investors hailed the announcement, and the demand for the stock sent it soaring 7.73% as of writing.
Royal Mail Share Price Outlook
The spike in the price has taken the candle to the 471.3 resistance. If the momentum carries the price action above this level, 480.1 becomes a new price target. 490.7 and 509.6 are additional targets to the north, but the bulls must take out the 200-day moving average for the latter to become attainable.
On the other hand, 452.6 comes into the fray if the bears reject attempts to break past 471.3. If the decline continues, 442.9 and 431.2 become the new targets to the south. There is a deep trench below 431.2, with the bottom of this coming in at 407.0.
Royal Mail Group: Daily Chart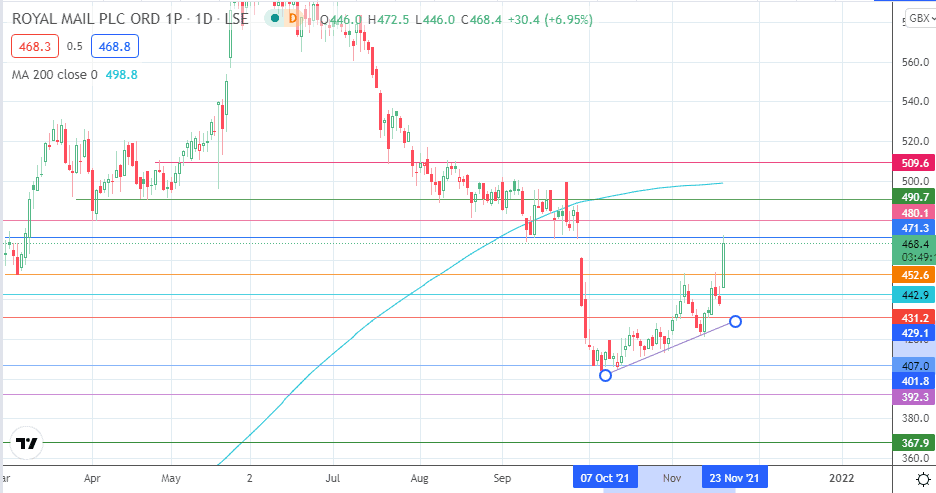 Follow Eno on Twitter.