The Rolls Royce share price is marginally higher, trading at 0.44% higher on a day that has been characterized by low-volume trading.
After a dip in fortunes following the emergence of the Omicron variant, the Rolls Royce share price is now experiencing a resurgence. Not only has Omicron not had the dampening effect on aviation travel as initially feared, but investors are now focusing on inherent fundamentals in deciding which stocks to add to their portfolios in 2022.
The shortage of semiconductors led to chip makers prioritizing profitable brands above others. Sales of mainstream vehicles suffered while luxury automakers saw their sales surge. Rolls Royce, BMW and Bentley are three brands that benefitted from this boom.
The Rolls Royce share price needs to build on this momentum to hit its September 2021 peak.
Rolls Royce Share Price Outlook
The price action on the daily chart remains range-bound, with 123.64 serving as the floor and 131.16 serving as the ceiling. A break above the latter allows for a push towards 137.16. 140.52 and 145.60 are additional resistance levels of note in the short term.
On the other hand, a decline below 123.64 allows the bears to push further lower towards 117.06. 112.90 and 106.92 are additional price targets to the south.
RR: Daily Chart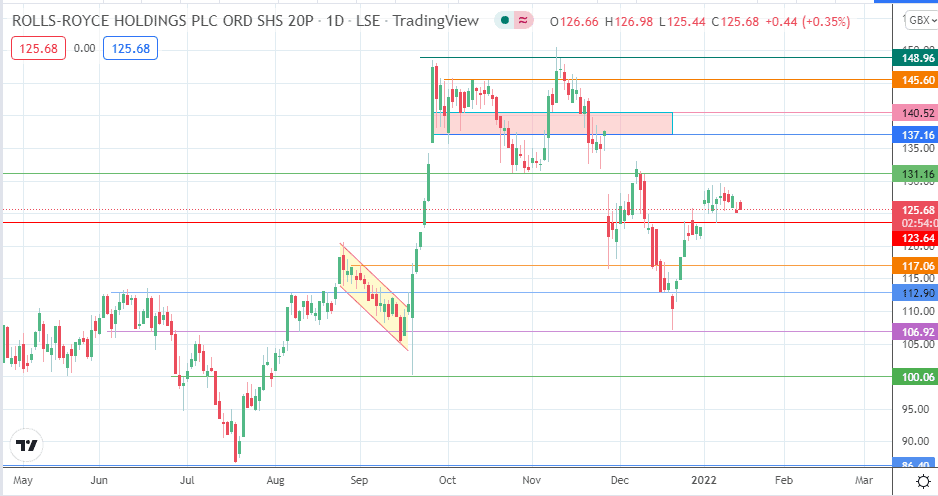 Follow Eno on Twitter.