The Rolls-Royce share price has been under pressure in the past few days. The stock is trading at 136p, which is about 10% below its highest level this month. Still, the RR share price has jumped by more than 290% from its lowest level in 2020.
Rolls Royce has been in the spotlight in the past few weeks. The company was among those that exhibited at the recent Dubai Air Show. This was a relatively successful show where companies like Boeing and Airbus received strong orders.
Most of these orders were for the relatively small aircraft that are mostly served by GE engines. Sill, the rising order book is positive for Rolls-Royce and other companies in the industry.
The company also announced that it will invest in small nuclear reactors in the UK. The firm believes that these small reactors will play a role in decarbonising the UK and other countries. The company has also entered a partnership with the Qatar government about investing in clean energy projects. The deal between the company and the country will last for about 20 years.
At the same time, Rolls-Royce has been in the spotlight after the latest decision by General Electric to break itself apart. The three companies that will be formed will be on energy, health, and aviation. Analysts believe that RR could be a good candidate for a break-up as well.
Meanwhile, a DCF valuation shows that the Rolls Royce share price is undervalued by about 71.8% as shown below.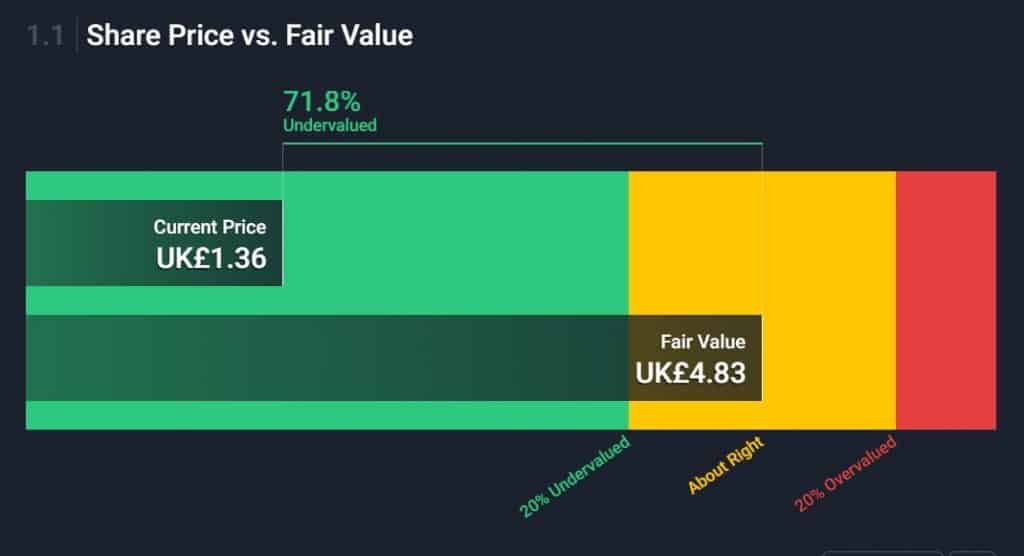 Rolls-Royce share price forecast
The four-hour chart shows several things about the RR share price. First, we see that the stock is trading at 136p, which is an important level since it was the highest point on December 2. Second, the price has formed what looks like a double-top pattern at 150p. In most cases, a double-top pattern is usually a bearish signal.
The stock is also at the same level as the 25-day and 50-day moving averages. Most importantly, it seems like it has formed a double-top pattern. Therefore, there is a likelihood that the stock will resume the bearish trend since this pattern is usually a bearish sign. If it happens, the next key level to watch will be at 120p.