The Rolls-Royce share price struggled in October as the aviation industry remained under pressure. Investors also grew concerned about the rising cost of doing business as parts prices jumped. The RR share price declined by more than 6% in October and by almost 10% from its highest level during the month.
October review
October was a challenging month for the Rolls-Royce share price. The biggest concern among investors was the rising cost of doing business, which is expected to affect its margins in the next few quarters. This happened as the prices of key items the company uses like steel and aluminium rose sharply.
The stock also reacted to the rising oil prices, which is expected to affect the company's customers. In their quarterly earnings, companies like Delta, United, and American Airlines said that they were struggling as oil prices has surged in the past few months. Nonetheless, the companies expressed their optimism considering that that demand is rising globally.
The Rolls-Royce share price also reacted to the relatively strong earnings by General Electric (GE). The company managed to boost its forecast even as it warned about the rising risks. These results affected Rolls-Royce since the two companies operate in similar industries.
Meanwhile, Rolls-Royce is continuing its pivot towards clean energy. The company announced a deal with the Qatari government during the weekend. The government will invest billions of dollars into a venture to create a science and engineering campus in the UK that will develop green technologies. This is one of the several initiatives that the company has implemented as it moves from fossil fuel-powered engines.
Rolls-Royce share price forecast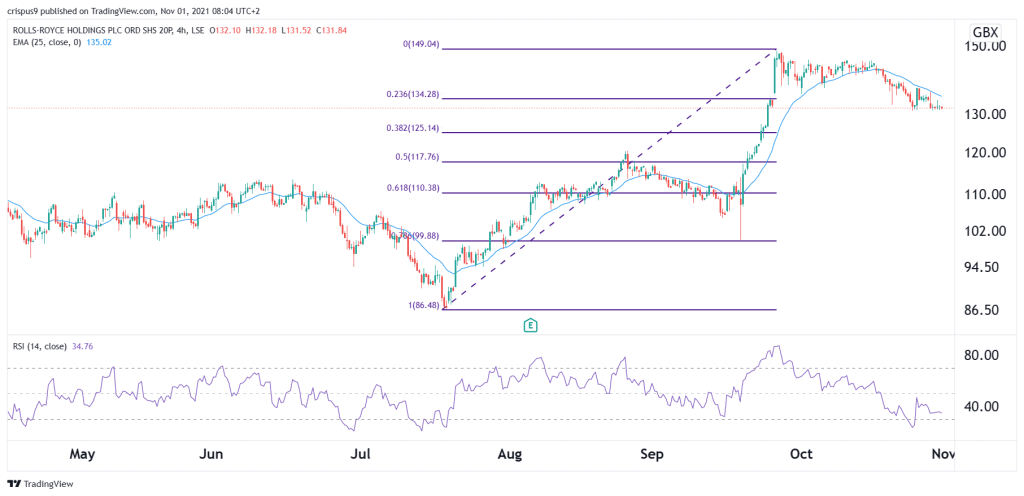 The four-hour chart shows that the RR share price has been under intense pressure in the past few weeks. The stock has declined by about 10% from its highest level in October. It has moved below the 23.6% Fibonacci retracement level. Also, it has dropped below the key 25-period and 50-period moving averages. It also seems like it is forming a falling wedge pattern.
Therefore, the stock will likely resume the bullish trend as bears target the 50% retracement level at about 117p. It will then resume the bullish trend and retest the key resistance level at 150p in the final weeks of the month.