Rolls Royce share price declines for the 5th session in 6.
New UK COVID-19 surge among headwinds.
Decline invalidates the bullish pennant.
The Rolls Royce share price has had a roller coaster ride in the last 18 months. A year ago, the stock was at 17-year lows, battered by a damaging pandemic that shut down global aviation and cut off a critical revenue source for its general aviation division. Just a year later, and it hit 18-month highs as the planes carrying its engines hit the skies once more.
However, the last week saw a correction in the price as travel stocks took a general hit. New restrictions, lack of clarity surrounding the lifting of the US restrictions on UK flights and a recent surge in UK coronavirus cases has dampened sentiment, allowing for some profit-taking on the stock.
The Rolls Royce share price s down for the fifth session in six, with an extension of the correction looking likely.
Rolls Royce Share Price Outlook
The breakdown of the flag consolidation area invalidates the pattern. Monday's closing penetration also sets the stage for additional selling, targeting 128.64 initially, before 122.30 or 118.26 become available if the decline is extensive.
On the other hand, bulls need to defend 134.32 for the slump to be arrested, after which follow-up buying is required to achieve the 153.70 price resistance. 170.22 and 182.56 only become available if 153.70 gives way.
Rolls Royce: Daily Chart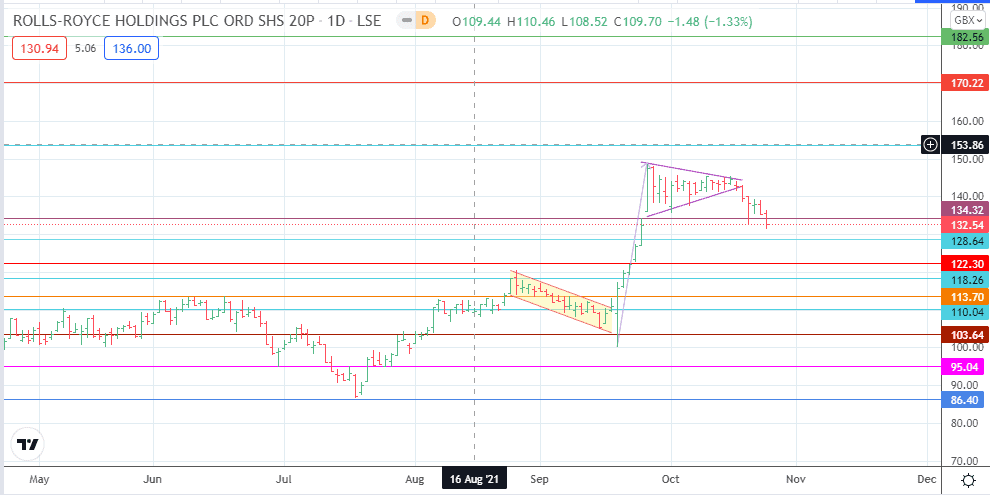 Follow Eno on Twitter.