The Rolls Royce share price surged 30% from last week's lows to complete a stunning technical breakout, which could continue this week. Friday's closing price of 132.50p not only marked the seventh straight day of gains for Rolls Royce (LON: RR), it was also the highest close in 2021. Furthermore, it pushed the share price beyond the resistance that has capped it all year, which could set Rolls up nicely to motor even higher.
The tide has been turning for engine maker Rolls Royce recently. The world is starting to readjust back to normality in the wake of the covid pandemic. Many countries have opened their borders for vaccinated tourists, and vacationers have made up for the lost time. The most significant lift for aviation-related stocks came last week when the US finally announced it would open its border for double-jabbed travellers. The news led to an immediate upgrade from Berenberg bank who lifted their 12-month price target for the rolls Royce share price to 160p from 150p. As a result, RR has broken out on the upside, which could fuel more buying.
RR Technical Breakout
The weekly chart shows that Rolls has been trading in a rising triangle formation for 12 months. Last week's rally, which burst through the top edge of the pattern at 120p, also lifted RR above its 100-week moving average. Technically speaking, on the long term chart, Rolls Royce has the potential to advance to the June 2020 high at 146p. Furthermore, an extended rally could lift the share price above 200p and towards the 200-week average at 216p.
Of course, in reality, a 200p target is overly optimistic considering the challenges ahead. However, in saying that, as long as RR remains above the former trend resistance at 118p, the outlook is incredibly constructive. Therefore, even though Rolls Royce jumped 20% last week, I maintain a bullish stance as long as the price stays above 118p.
Rolls Royce Share Pirce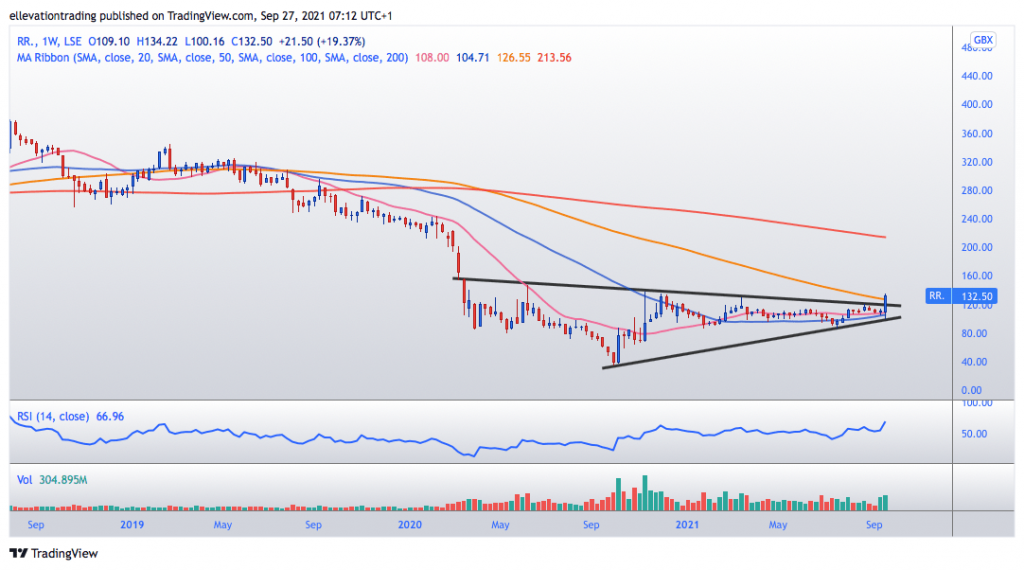 For more market insights, follow Elliott on Twitter.