The latest surge in the XRP/USDT pair is boosting bullish Ripple price predictions. The latest bullish move comes as the company says it will start offering institutional-level crypto products despite its ongoing court case with the SEC.
Ripple Labs says it will launch a crypto trading marketplace for institutions known as Liquidity Hub. The hub will create a new channel for enterprise clients to trade a broader crypto space. The hub will provide the necessary liquidity required for institutional-level transactions. It will provide an opportunity for these clients to trade across market-making platforms, Over-the-Counter (OTC) platforms and global exchanges.
The alpha version is set for launch in 2022 and will feature Coinme as an official partner. Crypto assets to be supported include Bitcoin. Litecoin, Ethereum, Ripple and Bitcoin Cash.
Ripple Price Prediction
The 4-hour chart shows that the price action bounced off the 200-day moving average and showed a consolidation retracement, forming a bullish flag. This flag has been broken by the latest 4-hour candle, completing it and sending the price towards the 1.3475 resistance (15 August high). If this resistance gives way, the 1.4140 and 1.4785 price barriers become the new targets to the north.
On the other hand, rejection from the 1.3475 price mark following the measured move from the flag could usher in a decline that retests the 10 October/10 November lows at 1.2280. If the drop is more extensive, price action may contend with the 200-day moving average before the significant support at 1.0862 can come into the picture.
Ripple (XRP/USDT): 4-Hour Chart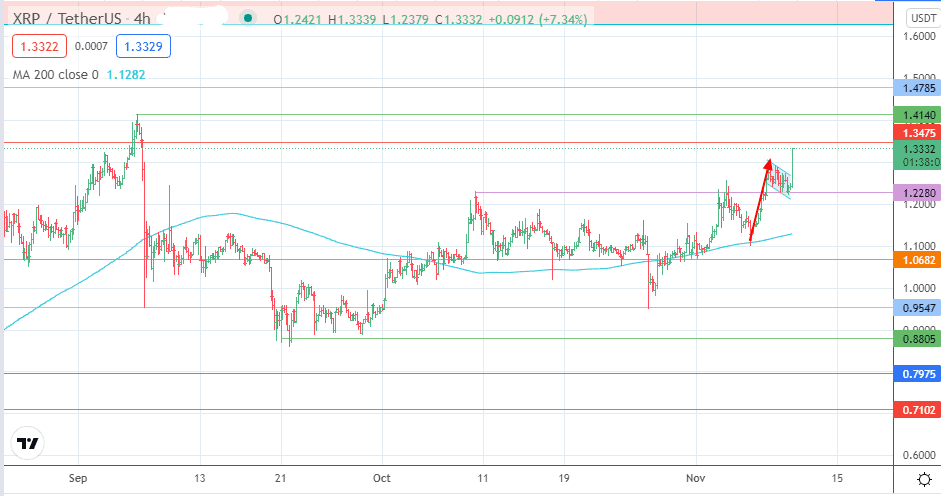 Follow Eno on Twitter.