The Reliance Industries share price is up 6% since the resumption of the markets after the Easter holidays. This Wednesday, the stock is on a complete bid and has violated the 70.65 resistance (12 October 2021 and 4 April 2022 highs). The renewed bounce comes off the end of the correction move, which came from a bounce at the 66.75 support.
The evolution of the Reliance Industries share price action has seen the price candles form a bullish pennant on the daily chart. Tuesday's 2.39% upside move achieved a 3% penetration close above the pennant's upper border, thus completing the pattern and putting it on course to complete the expected bullish price objectives.
The advance move broke the 68.95 resistance mark. The measured move is expected to terminate at the all-time high mark of 73.45. Expectations of higher earnings are driving bullish interest in the stock. The last earnings report released in January 2022 showed a 54% growth in revenue and a 42% jump in net profits.
The next earnings release is for the entire year and comes up on 29 April 2022. Last week, Bloomberg reported that the company was considering an offer for Walgreens Boots Alliance's UK Boots business. Boots business covers 2,200 stores in the United Kingdom and has a valuation of 8 billion pounds.  
Reliance Industries Share Price Outlook
The violation of the 70.65 resistance mark follows the completion of the bullish pennant pattern. There needs to be a confirmation of the barrier break with a 3% penetration close above this level by the daily candle to indicate a clear pathway towards the all-time high at 73.45 (14 October high). If the advance move extends above the record high, the stock advance towards the 100% Fibonacci extension level at 77.70.
Only if the active candle fails to break the 70.65 resistance will the chances of a pullback towards the 68.95 support level increase. 66.75 (3 November 2021 and 14 April 2022 lows) and 64.60 are additional price targets to the south that become viable if the correction deepens.
Reliance: Daily Chart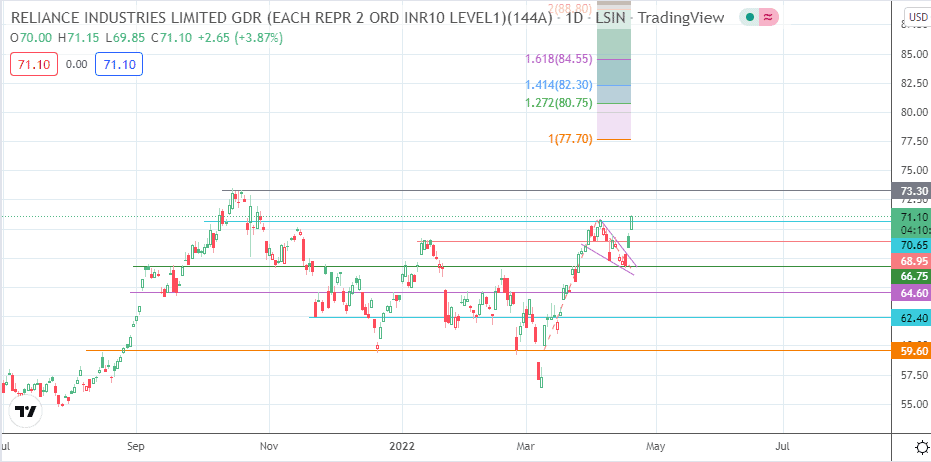 Follow Eno on Twitter.