This Wednesday, the RDSB share price is up 3.3% as crude oil prices rise ahead of the OPEC + meeting scheduled for 2 December. The meeting comes on the backdrop of the recent discovery of the Omicron variant of COVID-19. 
The oil cartel had rebuffed requests to increase its production beyond the current addition of 400,000 barrels per day, citing unknown risks from the coronavirus as reasons. The emergence of the new strain has increased bets that the alliance could maintain the existing quota beyond January or even take some of it off the table.
Oil stocks are benefitting from the scenario. In addition, early suggestions from doctors treating affected patients and some scientists indicate that the Omicron variant may not be as virulent as once thought. A boost in sentiment around the RDSB share price also comes from the fact that the new restrictions have so far been limited to the original countries targeted in Southern Africa, which could stave off any demand-side risks. 
RDSB Share Price Outlook
The 1628.2 resistance is facing a challenge from the intraday uptick. If the bulls uncap this price mark, 1682.8 becomes the next available target. 1713.4 and 1785.4 are additional targets to the north if the advance continues.
On the other hand, rejection at the current resistance allows for a pullback which tests the 1587.0 support. Additional pivots to the south are found at 1521.6 and at 1483.2 (upper border of the resolved triangle). These pivots will become available if the decline continues below the 1587.0 support.
RDSB: Daily Chart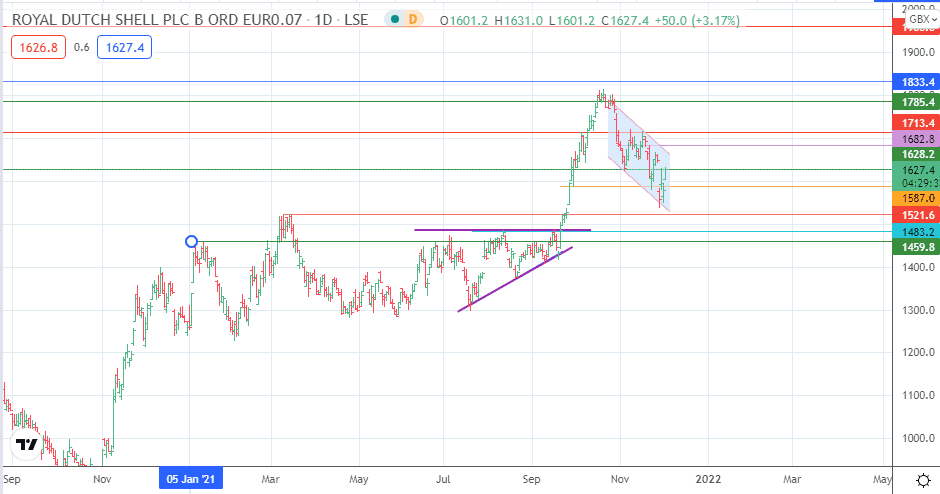 Follow Eno on Twitter.