PSG coin price seems to have double topped after getting rejected from $60 price level twice in 2021. For our bullish PSG coin prediction 2022, the reversal that happened in late January must hold. Any breach of $11 support could send the price to a severe bearish territory. Nevertheless, if the narrative of fan tokens heats up, PSG coin price might go well above $100 by 2025.
European football is a billion-dollar industry. The premier leagues of England, Spain, France, and Italy boast some of the biggest sports entities in the world. These football clubs have a very loyal fanbase all across the globe. Their income streams include match day revenue, commercial revenue, and broadcasting revenue. Although these clubs are racking millions of dollars of revenues each year, very few pay anything back to their fans.
What is PSG Coin?
One of the few football clubs which have taken fan engagement to another level is Paris Saint-Germain F.C. It is one of the biggest clubs in the world with a revenue of €540 million in 2021. The club launched its fan token called PSG coin on Chiliz in 2020. Other clubs including heavyweights like Atletico Madrid, Juventus, and F.C Barcelona have also launched their fan tokens on Chiliz. PSG coin price is $17.15 at the time of writing.
The fan token was introduced by top football clubs to give its fans exclusive privileges. These privileges include voting rights for crucial club decisions, merchandise discount, match day entries, etc. Before taking a shot at Paris Saint-Germain fan token price prediction, let's have a look at its roadmap.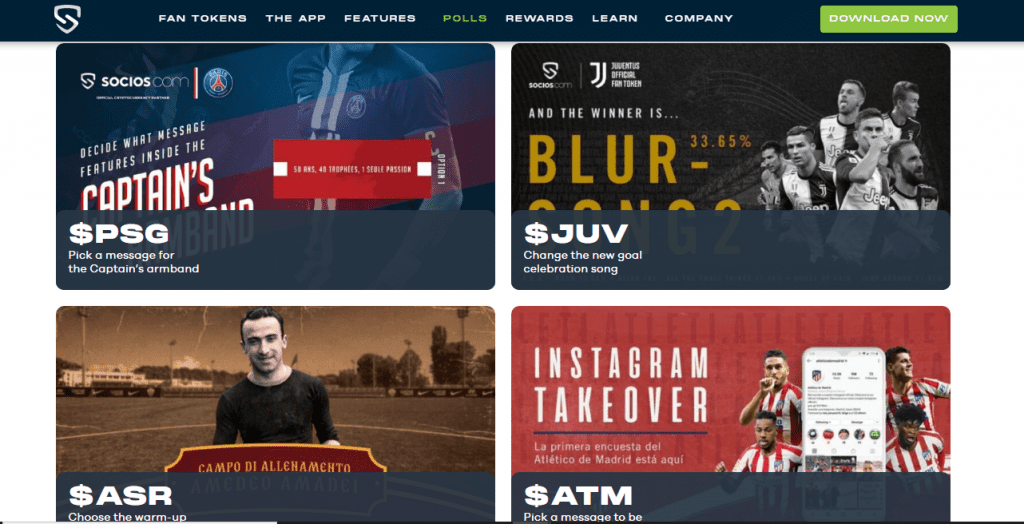 Project Roadmap
The top football club launched its fan token in January 2020. It sold 1,288,396 tokens via a Fan Token Offering (FTO) on Chiliz's Socios platform. The Fan Token Offering price was €2. The total supply of PSG tokens was set at 20 million.  After distributing nearly 6% of tokens among its fans, the remaining tokens were kept by the club for itself. The club-owned tokens had eight years vesting period.
According to the latest PSG coin news, holders can earn different rewards on the Socios app. The app also has several other features like voting, Fan Token Offerings, Token Hunt, etc. The PSG coin can be used to earn rewards like match day access, VIP experiences, cashback on official stores, and exclusive NFTs. In the future, PSG fans would also be able to use the token to buy VIP goods and services. NFTs signifying real-world ownership is also a part of the official PSG roadmap.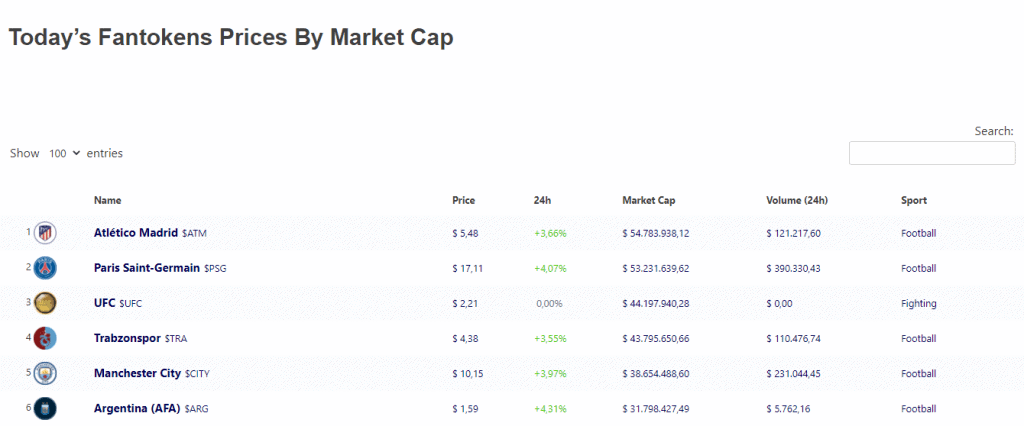 PSG Coin Price Prediction 2022
The chart of PSG coin appears as a classic case of a double top. The PSG coin price topped at $59 on 27th April 2021. In August 2021, the price surged once again, peaking at $61.5 this time. This shows that there is too much sell pressure around $60 level. Keeping in view the double tops in the traditional market, another all-time high for PSG coin price seems to be highly unlikely in 2022.
The only hope for the bulls is the support at $11.5-$12 level. On 24th January, PSG token price bounced off $11.7. If the recent uptrend continues, the price needs to break above $27 in short term to signal a bullish reversal. A clear break above $44 might also give PSG coin a shot at a new ATH. In such a bullish scenario, $42-$44 can be a good conservative PSG coin price prediction 2022. This price target is the 0.618-0.65 Fib pocket of August 2021 high and January 2022 low.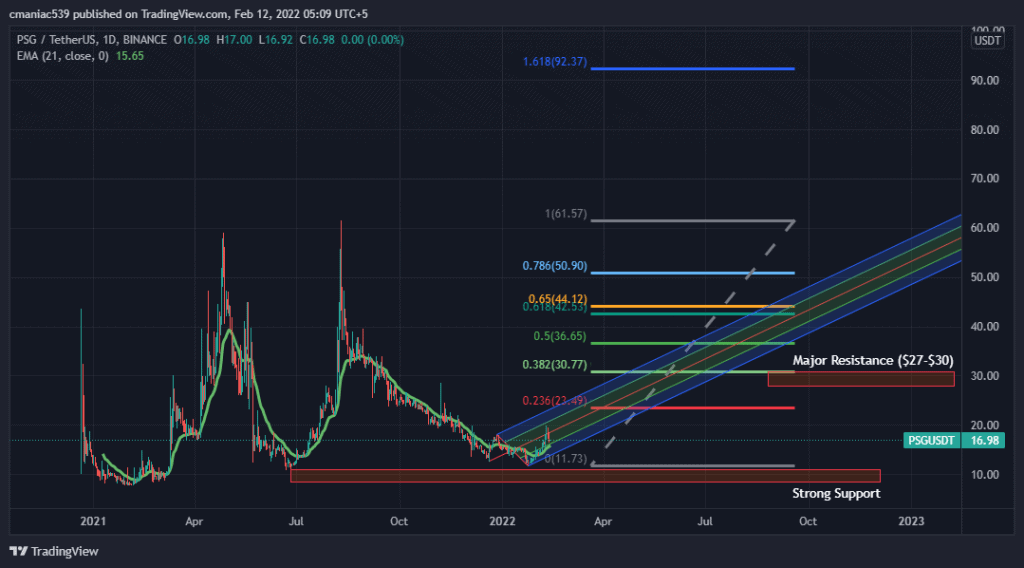 PSG Coin Price Prediction 2025
The price of the PSG fan token depends on the success of the PSG team as well as the Chiliz ecosystem. If Chiliz gains the much-anticipated user adoption by 2025 then we can take a shot at a bullish PSG coin price prediction 2025.
Many big tech investors like Raul Paul are quite bullish on the future of social and fan tokens. If fan tokens really become the next big narrative in crypto by 2025 then PSG price will also surge. In such a bullish scenario, PSG price may target the 3.618 Fib level at $192 in 2025.
PSG Coin Price Prediction 2030
According to the industry-famous Bitcoin Stock to Flow model, Bitcoin can go as high as $1.3 million by 2030. We can predict the corresponding price of the PSG coin by taking the current value of the PSGBTC pair. At the time of writing, 1 PSG token is equal to 0.0004 BTC. If we assume the same parity then we get a PSG coin price prediction 2030 of $520.
However, the yearly inflation by unvested team tokens may add extra sell pressure on the price. Several other factors like user adoption and the popularity of the PSG Team are also likely to play a role in this regard. All these Paris Saint-Germain token price predictions are based on pure speculation and shouldn't be taken as financial advice.
Is it a Good Investment?
PSG coin price has bounced off $11.7, without creating a lower low than the June 2021 low of $10.78. The current recovery will not be able to sustain if the Bitcoin price plummets once again. Nevertheless, considering fan tokens to be the next frontier of crypto like NFTs, the current price can be a good buy. An even better idea can be to dollar cost average your position in PSG token. This will give a much better entry for a long-term hold.