The Palantir share price is up sharply this Friday after the US Army extended its partnership with Palantir Technologies Inc. to run the Army Vantage program for the second year.
Shares of PLTR jumped 3.65% after the US Army's Program Executive Office for Enterprise Information Systems extended the partnership for another year in a deal worth $116.3 million. The US Army's data analytics platform program utilizes the company's software, allowing the US Army to conduct strategic leveraging of its data set.
The contract was initially signed in December 2019 as part of a $458 million deal to run the Army Vantage Program.
PLTR Share Price Outlook
The upside move of the day came off a bounce on the 18.14 support. This move needs to close above Thursday's high to bring the price in confrontation with the 19.38 resistance (6 May and 1 December low). 20.79 and 21.79 only come into the picture if the advance continues beyond 19.38.
On the other hand, if the bears see the advance as opportunities to sell on rallies, this could result in a rejection and pullback off the 19.38 resistance line. This move would ultimately test support at 18.14. If the bulls fail to defend this level, 17.16 (11 May low) becomes the next downside target.
PLTR: Daily Chart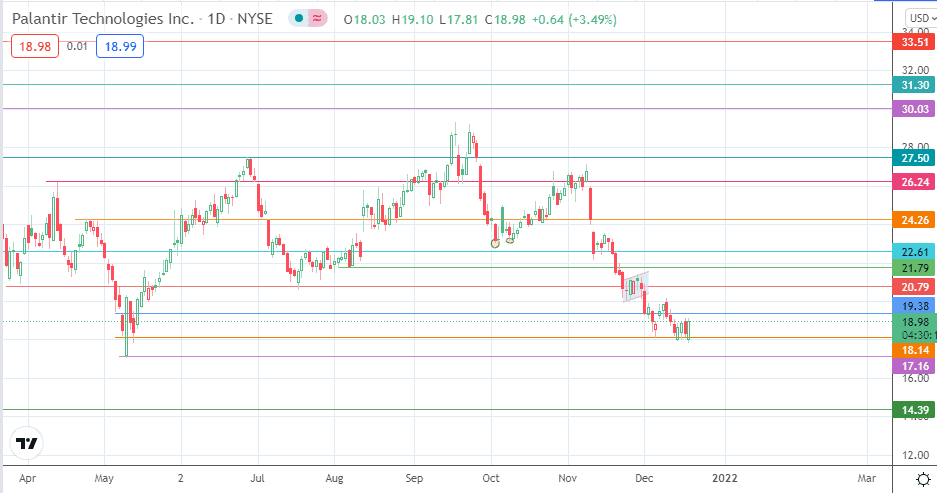 Follow Eno on Twitter.