Platinum price resumed the bullish trend this week despite the worrying flash manufacturing PMI numbers. These numbers revealed that manufacturing activity in the US, UK, EU, and Japan remained in a contraction area in January. Platinum rose to $1,057, which was a few points above last week's low of $1,017. In all, its price has soared by ~27% from the lowest point in 2022.
Platinum price has benefited from the extremely weaker US dollar. According to Bloomberg, the US dollar index (DXY) has slumped from $115 to about $101 as most global currencies like the euro and sterling surge. In most periods, precious metals and other commodities tend to have an inverse relationship with the greenback.
Read more: Platinum demand and supply outlook for 2023.
And analysts believe that the dollar has room for more downside to run. In a warning at the World Economic Forum, Ray Dalio argued that the end of a dollar-dominated world is quickly fading. Dalio is a closely-watched figure since he founded the biggest hedge fund in the world. Such a price action will be positive for metals like gold and palladium.
Platinum price forecast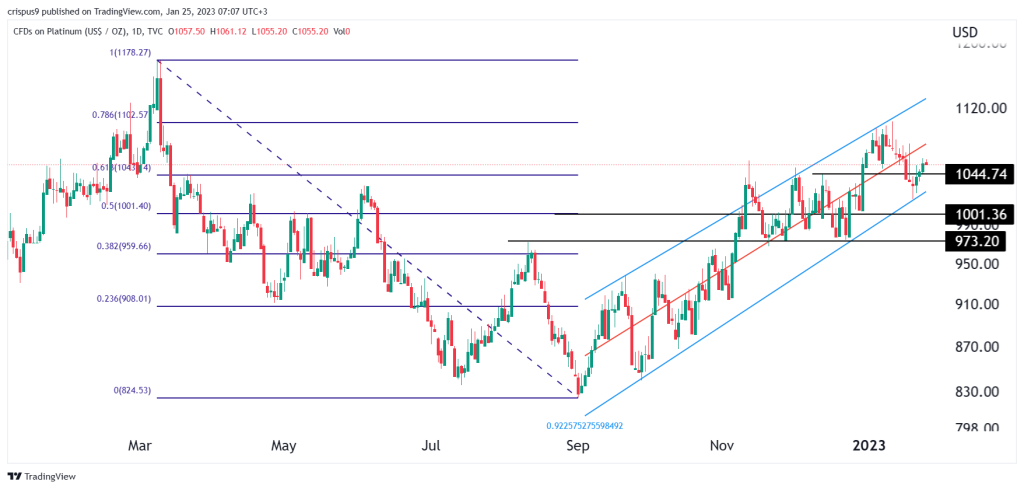 The 1D chart shows that platinum has formed what looks like a near-perfect chart. It has formed an ascending regression channel shown in blue. In the past few days, it has drifted upwards after dropping to the lower side of the channel and is now nearing the middle part. This recent uptick happened after it formed a small hammer pattern on January 19.
Further, the price has remained comfortably above the important support at $973, the highest point on August 10 of last year. This was an important price since it was the neckline of the double-bottom pattern. Platinum has cruised above other key resistance levels like $1,044 (December 13 high) and $1,000 (50% retracement and psychological level).
The upward trend is also being supported by short and long-term MAs. Therefore, the outlook of platinum prices is bullish, with the initial target being at $1,076 (middle of the regression channel). It is then followed by $1,104, the highest point in 2023, and the 78.6% retracement level.
On the flip side, a volume-supported drop below the ascending channel at $1,022 will send a view that there are more sellers in the market. If this happens, the next harvest level will be at the psychological level at $1,000 followed by $973.