The collapse in platinum prices continues after negative industrial production numbers from China undermined the asset's recovery.
Platinum and other metals like palladium and copper are inherently linked to demand from China's thirsty factories. The pressure exerted on Chinese industries from restrictions imposed after new COVID-19 Delta cases hit, has pushed back on factory production. Data released earlier Wednesday shows that industrial production (year-on-year) fell from 6.4% in July to 5.3% in August, with year-to-date performance also dropping off from 14.4% to 13.1%. 
Platinum price action fell 0.16% on the day, falling for the 7th session in eight as the correction from the March 2021 highs continues.
Platinum Price Outlook
The bearish flag's capitulation has opened the door for a measured move, expected to run until the 906.37 support level. A further decline in platinum's price action targets 850.95 and 796.99, where the lows of 26 June 2020 are found.
On the flip side, a bounce off 906.37 allows bulls to attempt to re-establish contact with 972.00, this time in a resistance capacity. If this level is uncapped, 999.71 comes into view before 1040.43 becomes available. 
Platinum Price Chart (Daily)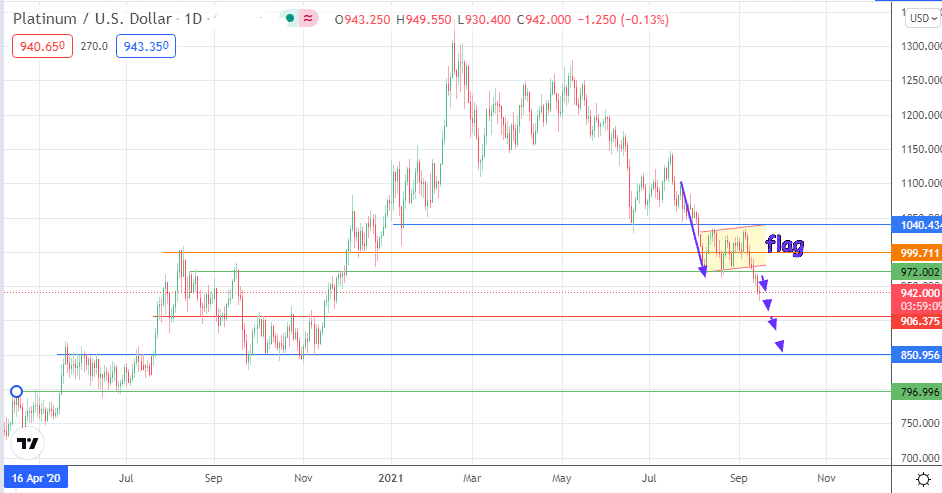 Follow Eno on Twitter.