Pfizer share price surges nearly 8% on new COVID-19 pill data.
US President hails development as an additional tool to fight COVID-19.
The company will seek emergency use authorization with the data.
The Pfizer share price has surged 7.75% on Friday after the company announced it had a new pill ready to treat early-stage COVID-19 infection. Pfizer said on Friday that initial data from a large-scale study showed that taking its antiviral drug Ritonavir could cut the risk of hospitalization and death from COVID-19 by 89% if taken early in the disease. 
The data came from a Phase 2/3 study of more than 1200 adults who were COVID-19 positive but not in the hospital. The study data shows that the timeline for early treatment to benefit from the drug is three days. The trials were conducted around the globe.
Pfizer is planning to seek emergency use authorization from the US Food and Drug Administration. Ritonavir is a protease-inhibitor that was initially developed to treat HIV infection in combination with Lopinavir.
US President Joe Biden praised the new drug as yet another tool to enable the US and the world to recover from the pandemic in his post-NFP White House briefing on Friday, monitored by Bloomberg.
Pfizer Share Price Outlook
The intraday surge has met resistance at 48.57 (10 August 2021 high). If the price action breaks this resistance, the 24 August high at 50.00 becomes the new target. Above this level, we also have a resistance target at 51.86 and potentially at the 200% Fibonacci extension at 53.14.
On the flip side, a pullback following rejection from the 48.57 resistance targets the 13 August low at 47.35. If the bulls fail to defend this level, a correction towards 45.99 could be on the cards.
Pfizer: Daily Chart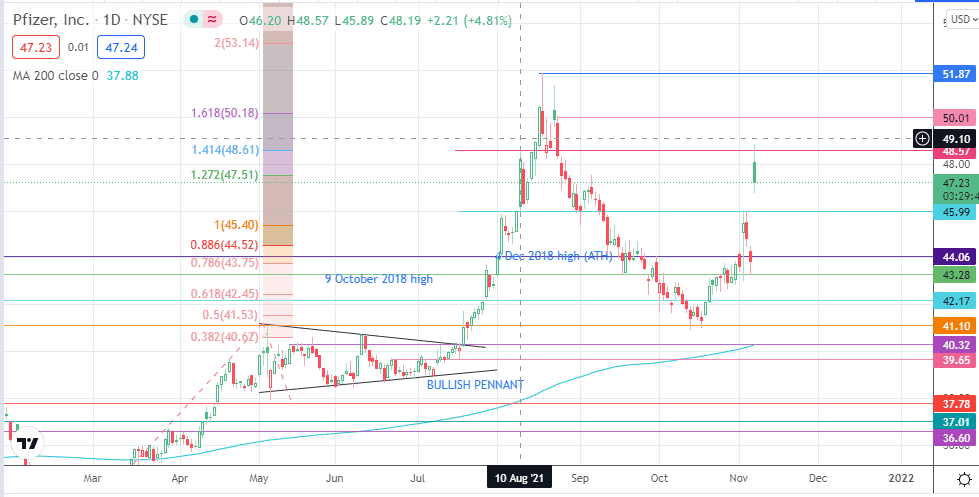 Follow Eno on Twitter.