Paypal stock price (NASDAQ: PYPL) started 2023 with a strong surge as the stock soared 20% in the first two weeks of January. However, this was followed by a strong sell-off which tanked the price to not only its yearly lows but its lowest level in the last six years.
What Is Paypal Stock?
Paypal Inc. is an American financial technology (FinTech) company that provides online payment and money transfer solutions to merchants and individuals in 190 markets worldwide. The company initially launched as Confinity and later adopted the name PayPal.
After an IPO in 2002, PayPal stock was listed on the Nasdaq exchange under the ticker NASDAQ: PYPL. PayPal stock is currently trading at $64.5.
Paypal Stock Latest News
According to the most recent PayPal news, the venture arm of the company has led a $52 million funding round for the web3 startup Magic. Other notable investors participating in the strategic funding round included Cherubic, Synchrony, KX, Northzone, and Volt Capital. Magic is a Wallet-as-a-service provider which assists businesses in their smooth transition to web3.
Paypal Chart Weekly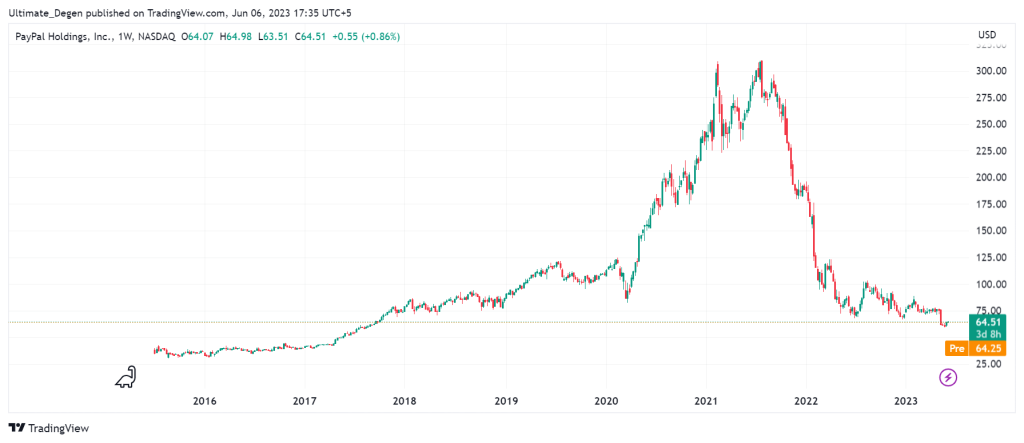 Paypal Stock Forecast Today
PayPal stock price has been rising since last week. PYPL price has rebounded from a fresh yearly low of $59. Considering the momentum behind the current bounce, the stock may retest the $68.5 resistance soon.
I'll keep sharing the updated PayPal price forecast and my personal trades in the free Telegram group, which you are welcome to join.
Paypal Stock Price Prediction 2023
PYPL stock price pumped more than 20% in January 2023. However, the bulls lost momentum, and the bears tanked the price really hard. Consequently, the stock plummeted to its lowest level since 2017 in May 2023. After a bounce from these lows, PayPal share price is now trading at $64.5.
My PayPal stock price prediction will remain bearish until it reclaims the $68 level. This level was a previous support that may now act as a huge resistance.
Paypal Stock Price Prediction 2025
A lot can happen in the Fintech world in the next two years. Analysts expect the US economy to enter a recession later this year. If this happens and the economy shrinks, and the recession prolongs, then PayPal price may drop to $25, which is also the price target of the recent breakdown from ascending triangle pattern.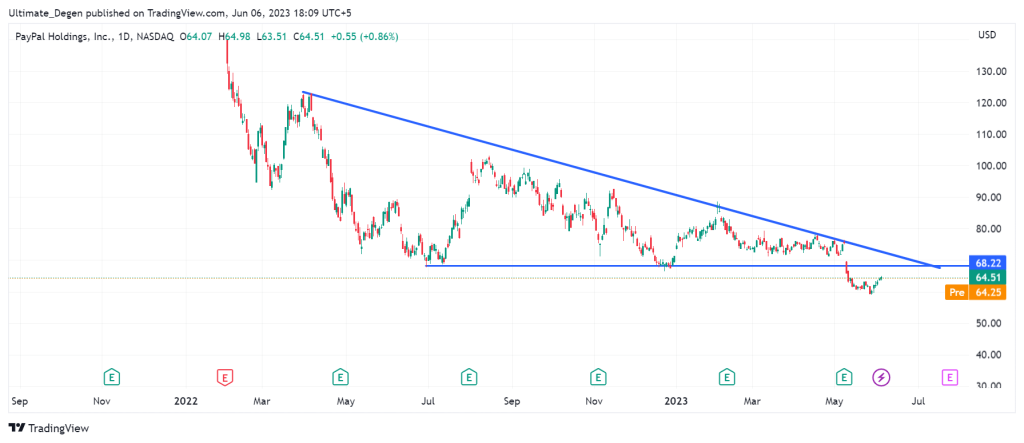 Paypal Stock Price Prediction 2030
Paypal stock price prediction 2030 is anybody's guess, as the world can be a totally different place in the next seven years. The ongoing advancements in the fields of web3 and artificial intelligence may change the whole tech landscape within the next decade.
While cryptocurrency may become the dominant way to transact over the internet in the coming years, I still think PayPal will survive as it is already investing in web3 businesses.
Where Will Paypal Stock Be In 5 Years?
Many new market players are already giving PayPal a run for their money. Furthermore, many analysts expect the US stock market to not hit a new all-time high in the next 5 years. Therefore, PayPal stock price is likely to remain below $100 in the next 5 years. However, a lot depends on the global macroeconomic conditions.
Why is Paypal Stock Dropping?
In its Q1 2023 earnings report, PayPal Inc. beat its EPS and revenue estimates. However, NASDAQ: PYPL stock still tanked very hard due to the headline guidance on low operating margins. Many analysts think the stock has become undervalued.
Should I Buy Paypal Stock?
That's a pretty subjective question, as the investment expectations of every individual may vary. First of all, you must determine the timeframe of your investment. If you are investing for the mid-term, then you need to watch for a reclaim of the $68 resistance very carefully. This can be a long signal for a major relief rally on a higher timeframe.
How To Buy Paypal Stock?
There are many ways to gain exposure to the price action of PayPal share price. The best way is to buy PayPal stock on online broker sites like Robinhood, eToro, and Interactive Brokers. Personally, I use Exness, which is a leading broker with a very quick registration process. You must define your risk constraints before investing in any stocks.
Who Owns Paypal Stock?
Shortly after the 2002 IPO, PayPal was acquired by eBay for $1.5 billion. However, in 2016 eBay spun off its subsidiary PayPal to become an independent entity again. The Vanguard Group, Inc. is currently the company's largest shareholder. IT holds 8.5% of the outstanding shares of PayPal Holdings Inc. BlackRock, Inc. is the second largest shareholder owning 6.8% of common stock.
How Much Did Paypal Stock Increase This Year?
PayPal stock price showed some strength at the start of 2023 as the shares surged by more than 20%. After this, the stock started to tank very hard and has been in a downward spiral since then. This means PYPL stock is 12.5% down since the start of this year.
Conclusion
In light of the above article, PayPal stock doesn't appear to be a good buy right now, as it is trading at its lowest level in the last six years. If the stock reclaims $68 support, I expect a strong relief rally, but it is too soon to speculate. A lot also depends on the US Federal Reserve, which is set to decide on interest rates in this month's FOMC meeting.