Palantir (NYSE: PLTR) stock price has darted higher in 2023 as investors move to buy stocks. The shares were trading at $6.90 on Thursday, which was about 16.65% above the lowest level in 2022. They remain about 84% below their all-time high, giving it a market cap of more than $14 billion. In this PLTR stock prediction, we will explain what it does and whether it is a good buy today.
What is Palantir Technologies?
Palantir Technologies is a company that was started by Peter Thiel, a serial entrepreneur who co-founded PayPal. The company was started shortly after the 911 terrorism act to provide the US and other allies tools to prevent future terrorist activities. It remained as a private enterprise for years until it went public in 2020.
Palantir provides its services mostly to the American government. It serves agencies like the military and ICE. In most cases, the company's clients pays it millions of dollars for a single deployment. At the same time, the company has been seeking to grow its business in the private sector, where it serves companies like Airbus, Ferrari, Apache, Tyson, BMW, and Merck.
Palantir products and services: What does Palantir do?
Palantir's products are not used by most people and most investors don't have a good understanding of what it does. Besides, the products are deployed in large and highly-secretive government agencies and large companies. Palantir has three key products. First, there is Gotham, which enable users to identify patterns hidden within large datasets.
Second, the company provides Foundry, a platform that helps organizations operate by crating their central operating system for their data. Individuals can then use the data with speed and test new ideas. Finally, it has Apollo, which is a product that enables the rapid, secure, and safe software updates. 
Latest Palantir Technologies news
There have been several Palantir stock news in the past few weeks. First, the company received an upgrade by Mizuho analysts who said that the company provides significant value to their customers. Second, the company recently joined hands with RStudio, a company that makes data science more open, intuitive, and collaborative.
Third, the company partnered with Cloudflare, one of the most powerful companies in the world. Cloudflare helps secure millions of websites and applications, including the one you are reading now. The company also partnered with companies like Lockheed Martin and Crisis24.
Palantir stock price history
Palantir share price has had a mixed performance after it went public in 2020. The stock initially traded at $9 where it was listed. It then surged to an all-time high of $45.50 as it turned out to be a meme stock. At the time, it was one of the most popular stocks in the industry.
After the initial gains, the PLTR stock price crashed to an all-time low of $5.97 as insiders continued dumping the stock. Insiders have sold shares worth over $16.75 million in the past 12 months. The shares also dropped as interest rates surged and it remained in the loss-making territory.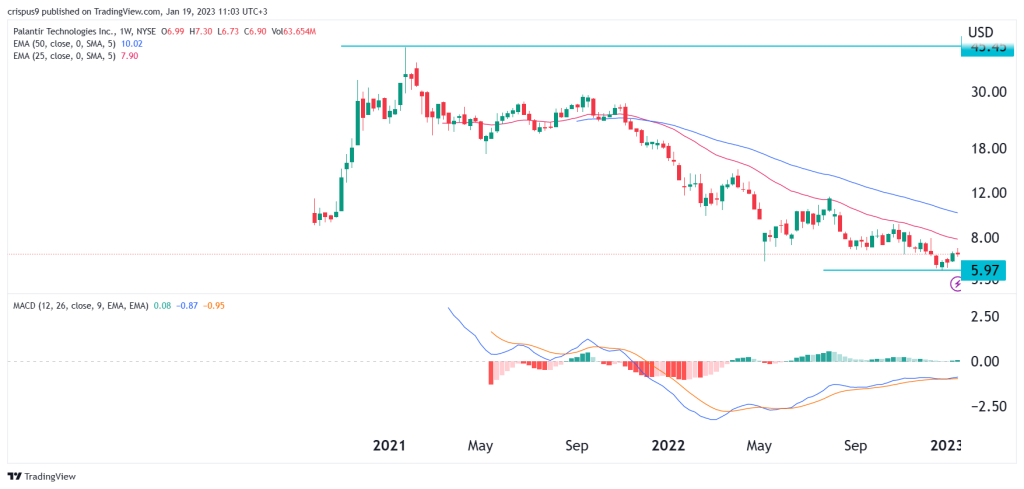 Is Palantir Technologies profitable?
A common question is whether Palantir is a profitable company. Unfortunately, Palantir has never generated an annual profit. This is notable because the company cannot be considered a startup since it was established in 2003.
Palantir has seen its total revenue jump from more than $595 million in 2018 to over $1.83 billion in 2021. Its revenue in the trailing 12 months was over $1.83 billion. Its losses have been enormous. The company generated a net loss of over $580 million in 2018 to over $1.1 billion in 2020. Losses in the past four quarters were $560 million.
Is Palantir a good investment? Is PLTR a good investment?
Investors are divided about Palantir. Some believe that it is an excellent company that is in an exciting industry that is hard to disrupt. They also cite the fact that Palantir is not relying on government contracts. alone for growth. In the most recent quarer, the company's commercial revenue in the US soared by 53% year-on-year. That was a bigger growth rate than the total corporate growth of 22%.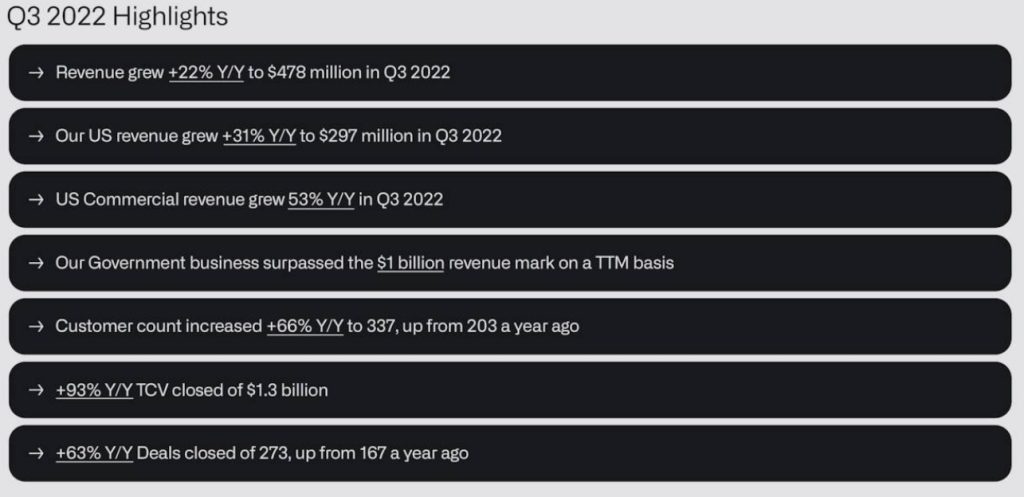 Further, they believe that the company will continue gaining traction as geopolitical tensions rise. In a recent statement at Davos, Palantir's CEO warned that the Russia-Ukraine war would last for years to come. As such, defence contractors like Palantir will continue benefiting from more orders.
On the other hand, people critical on Palantir cite the fact that the company is a perennial loss-maker. Also, they note the fact that the company's products are incredibly difficult to understand by ordinary people.
Is Palantir a buy, sell or hold?
The average Palantir stock price forecast by Wall Street analysts is $9.75, which is a few points higher than the current $6.95. Analysts have been a bit bearish on the stock. Jefferies recently downgraded their PLTR share price target from $9 to $7.5. Wolfe Research, Morgan Stanley, Goldman Sachs, Citigroup, and Deutsche Bank also downgraded the stock. Most of these analysts cited the company's slow growth for their pessimistic view.
Palantir Technologies Peter Thiel stake
Peter Thiel is one of the richest people in America. According to Bloomberg, he is the 278th richest person in the world with a net worth of over $7.8 billion. Forbes places his net worth at about $4.1 billion. Peter Thiel owns 163 million shares of Palantir Technologies. At the current price, his holding in Palantir is worth over $1.1 billion.
Palantir stock price forecast 2023
The daily chart shows that the PLTR stock price has been in a strong bearish trend for months. It remains below the descending trendline shown in purple. Also, the stock is at the 50-day and 100-day moving averages. The MACD is tilting upwards and is close to the neutral point. Therefore, my view is that the downward trend will continue in the first half of the year and then resume the bullish trend in the latter part. As such, the bottom for the stock will be at $5 while the shares will end the year at about $8.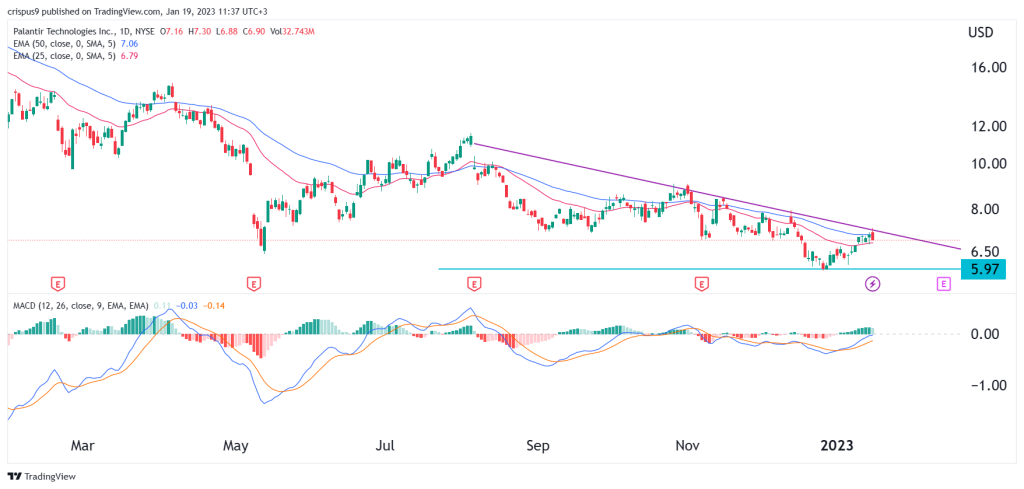 PLTR stock price forecast 2025, 2030
I believe that Palantir stock price will be much higher than it is today by 2025 and 2030. That's because the company will continue attracting more commercial clients by that time. At the same time, the management will have turned the company profitable. Therefore, we can't rule out a situation where the PLTR stock price rises to about $20 by 2030. Read our previous PLTR share price prediction here.