The Palantir share price looks set to open slightly higher but is expected to come under renewed pressure in the trading session after a sharply lower close on Thursday.
The company's fortunes and stock price continue to trade in opposite directions. While the company's profit grew in the 3rd quarter more than 35% over the previous year, the stock fell more than 27% in the last four months to date.
Those who remain firmly bullish on the stock may take solace in the new partnership signed between the semiconductor materials division of Merck and the company to solve the nearly 1-year old semiconductor shortages that have affected many industries around the globe. This partnership aims to build a platform that will leverage AI to enhance semiconductors' manufacturing.
This partnership could boost the Palantir share price if the solution gains market traction. The Palantir share price is presently up 1.3% as the market's Friday session kicks off.
Palantir Share Price Outlook
The bearish engulfing pattern on the daily chart could induce a further downside move, coming off a rejection from the 19.38 resistance. This move would target 18.14 initially before 17.16 comes into the picture as the next downside target.
However, if the bulls can initiate a follow-up to the bounce from the 18.14 support, then 19.38 comes under threat. If this is uncapped, additional targets to the north at 20.79 and 21.79 will additionally come into focus. 22.61 and 24.26 are additional targets to the north.
Palantir: Daily Chart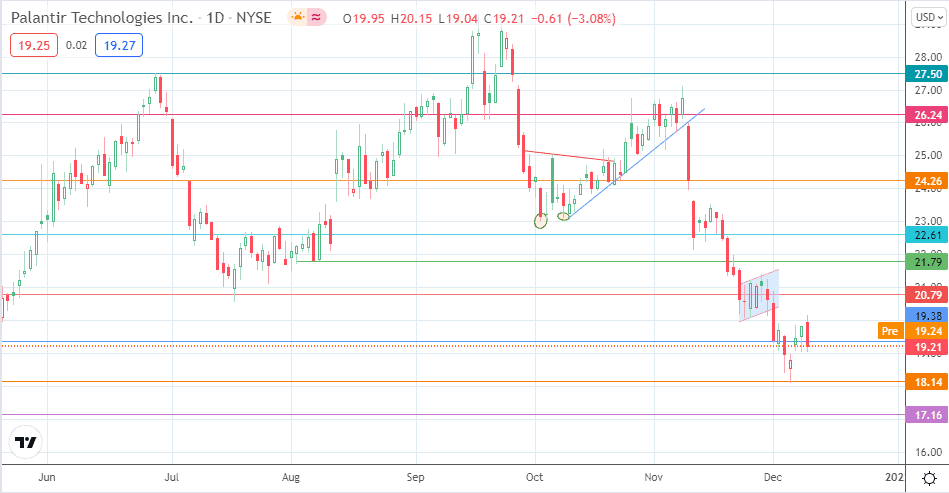 Follow Eno on Twitter.