OMG network lost half its value earlier in the month after an ill-fated attempt by traders to squeeze the price. However, despite the sharp-drawdown, the price could have further to fall. This morning, OMG network (OMG) is unchanged at $9.1600 (+0.60%), around -30% in November, but holding onto a +265% gain year-to date.
The OMG token surged at the start of November as tradets wrongly dsuessed that large number of short derivatives bets would catapult the price higher. OMG reached a high of $20.1100 on the 5th (+550% since July) ahead of a potentially bullish airdrop and forced liquidation from derivative shorts.
However, the expected move higher failed to ignite, sending the price violently lower by 40% to $11.1500. But despite a dead-cat bounce to $13.0000, selling pressure continues to weigh on price, which could suggest some bag-holders are still carrying long positions. Therefore, if the OMG Network price continues to plumb lower, it mat force the remaining long from position,s accelerating the sell-off.
OMG Price Analysis
The daily chart highlights the magnitude of the recent decline. Notably the price is approaching the 200-Day Moving Average at $8.2259 and horizontal support at $8.1500. However, in my opinion, the support levels should easily succumb.
In that event, I expect to see a deluge if selling, which could force the price down towards $3.0000- $4.0000 range.
The beatish view relies on OMG remaining below the former support at $11.4000. Therefore, a close above that level invalidates the pessimistic price prediction.
OMG Network Chart (Daily)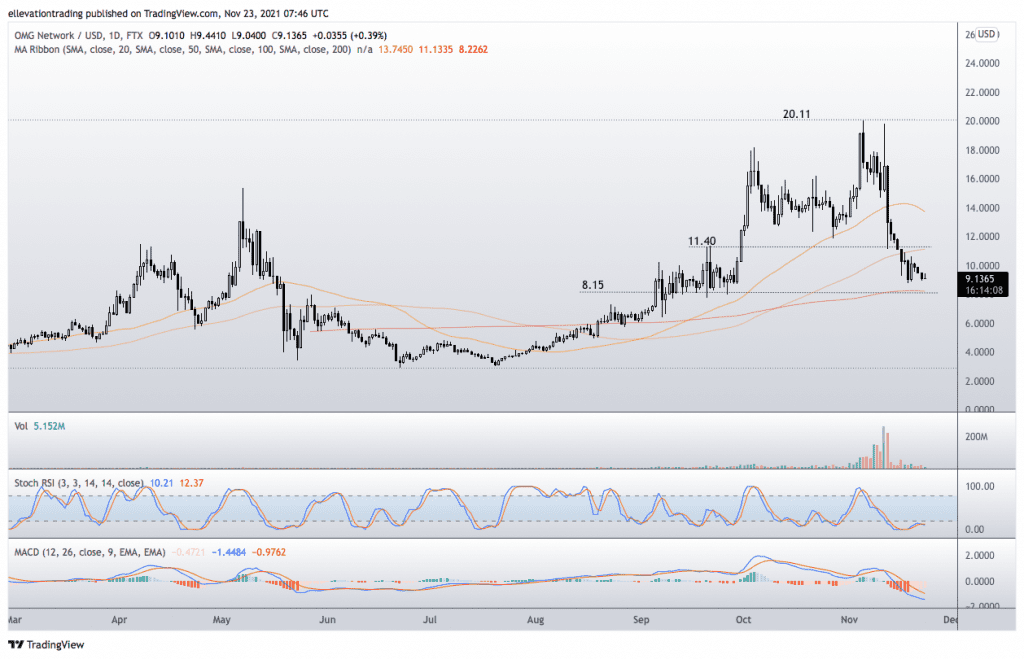 For more market insights, follow Elliott on Twitter.