Occidental Petroleum share price has done well this year as oil and gas prices remain at an elevated level. OXY stock price rose to a high of $77.38 on August 29. It has risen by more than 173% from its lowest level this year and by over 740% from the lowest point in 2020. This rebound has brought its total market cap to over $64 billion. So, does OXY have any more upside?
Is OXY a good investment?
Occidental Petroleum is one of the biggest energy stocks in the world. The firm operates in three key segments: oil and gas, chemical and midstream, and marketing. Its chemical business, which is known as OxyChem, manufactures basic chemicals and vinyls. The biggest shareholders in Occidental are Berkshire Hathaway, Blackrock, and Carl Icahn.
Occidental's business has boomed this year as demand for oil and gas jumped. Its net sales rose from more than $6.8 billion in the third quarter to more than $9.5 billion. Its sales rose from more than $18.3 billion to over $28.7 billion. Its net income rose $826 million to $3.6 billion. As a result, the firm has boosted its shareholder returns by increasing its dividends and share buybacks. The company has also reduced its debt by about $10 billion this year.
Still, there are several risks that could impact Occidental Petroleum share price in 2023. First, since oil and gas prices are highly cyclical, there is a likelihood that they will start easing in 2023. Indeed, Occidental's worldwide realized oil prices have been in a strong downward trend in the past few quarters.
Second, crude oil prices technicals suggest that prices will likely continue falling in the coming months. As shown below, WTI prices have been in a bearish trend, meaning that it could drop to below $65 in the coming months.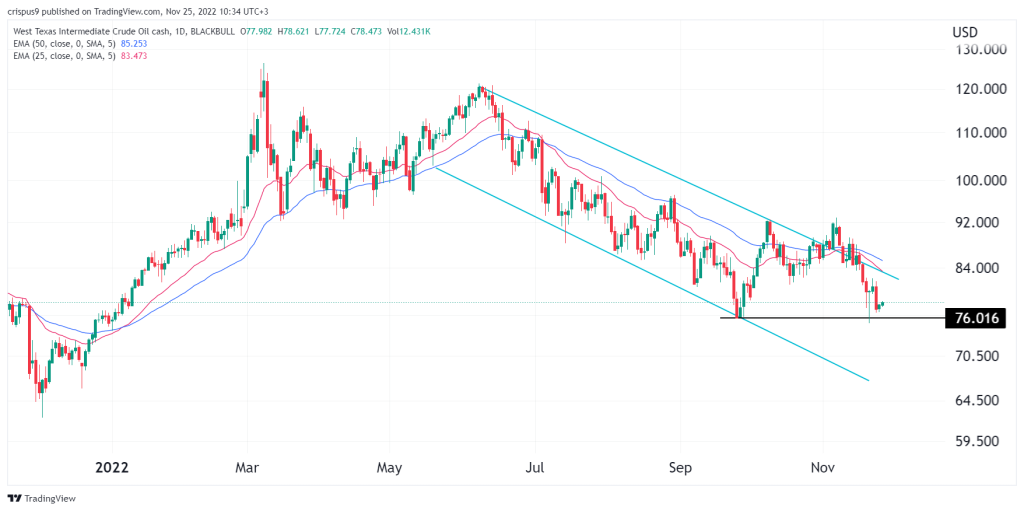 Third, another risk for Occidental stock price is that it is not cheap anymore and its dividend yield is not attractive. It has a dividend yield of 0.56%, which is backed by a healthy payout ratio of 4.25%. It has a forward PE ratio of 7, which is higher than that of other companies in the industry.
Occidental Petroleum share price forecast
The daily chart shows that the OXY stock price has been in a consolidation phase in the past few days. It has found a strong resistance level at $74.3, where it has failed to move above in the past few months. The shares remained above all moving averages while the Relative Strength Index (RSI) moved to the neutral level.
It has formed a triple top pattern. Therefore, the stock will likely retreat in the coming weeks as sellers target the key level at $60. A move above the resistance at $74.35 will invalidate the bearish view.