The Ocado share price is trading lower in the early London session this Tuesday, as its stock continues to reel from the fall in its 13-week revenue up to 27 February by 5.7%. Ocado Retail posted revenue of 564.7 million pounds in the 1st quarter, lower than the 599.1million pounds posted in the same period a year earlier. This was despite a growth in the active customer by 31% yearly.
The company has cut its previous market outlook, seeing its full-year revenue at closer to 10%. The last forecast revenue was for growth in the region of the "mid-teens". Ocado Retail blamed a softening in the grocery market for the drop in revenue. Recall that data and market measurement firm NielsenQ had indicated the possibility of higher inflation squeezing retail consumers in the UK, leading to a decline in grocery sales figures in the last 12 weeks.
Energy costs have been rising across the world. However, UK energy cost increases seem to have outpaced much of the developed world, with Ofgem stating on 3 February that the Default Tariff Cap in the UK would rise by 54% on 1 April. Ocado Retail is also warning that higher energy costs were likely to squeeze its core earnings margins. The Ocado share price is down 2.07% as of writing and continues the poor start to the week after the stock fell 7.74% on Monday.
Ocado Share Price Outlook
The Ocado share price is testing support at the 1074.0 price mark. A breakdown of this level allows 997.0 (27 February and 12 March 2020 lows) to enter the picture. Below this level, additional support is seen at 886.0 (26 February 2019 low) and 744.5. On the flip side, a bounce on the current support takes the price activity to the 1200.00 area (21 March high), before 1306.5 and 1369.0 (18 February and 2 March double top) comes into the mix as additional upside barriers. 1486.5 only becomes viable if an advance takes out 1369.0.
Ocado: Daily Chart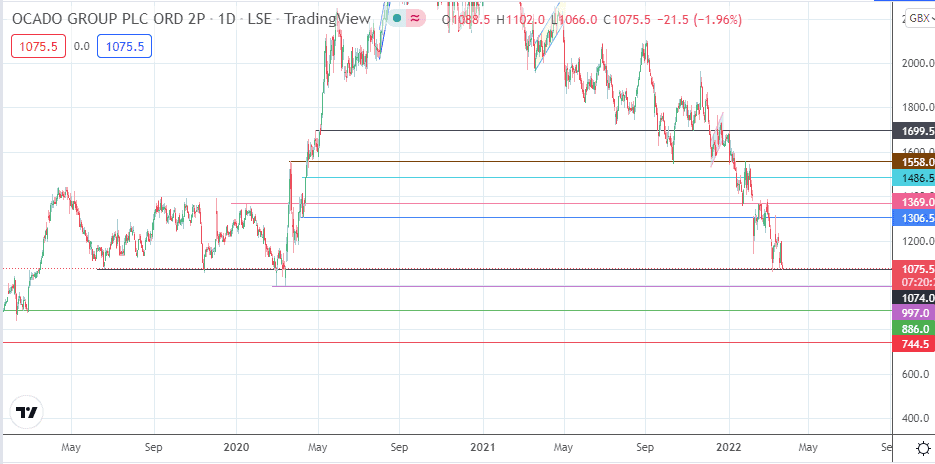 Follow Eno on Twitter.