The Nvidia share price is trading lower today as more traders take profits to cash in gains from the most recent advancements on the stock. The Nvidia share price has gained $72 in price in 2 weeks, but this advance appears to have stalled after the price activity failed to break the 287.05 resistance.
The drop in the Nvidia share price appears to be more of a profit-taking-driven correction rather than a consequence of a negative fundamental metric on the stock. The market's attention was also drawn to Intel, an Nvidia competitor, which unveiled its Arc GPUs for laptops. This also seems to have taken some shine away from Nvidia.
Propelling some of the negative sentiment on the Nvidia share price is an insider sale of stocks. A director in the company, Tench Coxe, sold 100,000 Nvidia shares, totalling $27.405m. This was disclosed in a Form 4 filing with the US Securities and Exchange Commission (SEC) and represents between 2.5%-3% of Coxe's total Nvidia shareholdings. The Nvidia share price is down 2.18% as of writing.
Nvidia Share Price
The break of the neckline of the double bottom at the 241.01 resistance led to a measured move that surpassed its initial target at 270.21. The upside move stalled at the 287.05 resistance with the formation of a doji preceding Wednesday's downside move. A continuation of the correction touches base at 270.21. If the correction is more profound, we could see a decline to 260.11 (22 March low) before the broken neckline at 241.01 becomes available once more in a role-reversed function. 
On the other hand, a break of 287.05 allows the uptrend to continue, targeting 314.28. Above this level, the 9 November/9 December 2021 highs at 322.99 become available as an extra northbound target before 346.53 (22 November 2021 high) re-enters the picture.
Nvidia: Daily Chart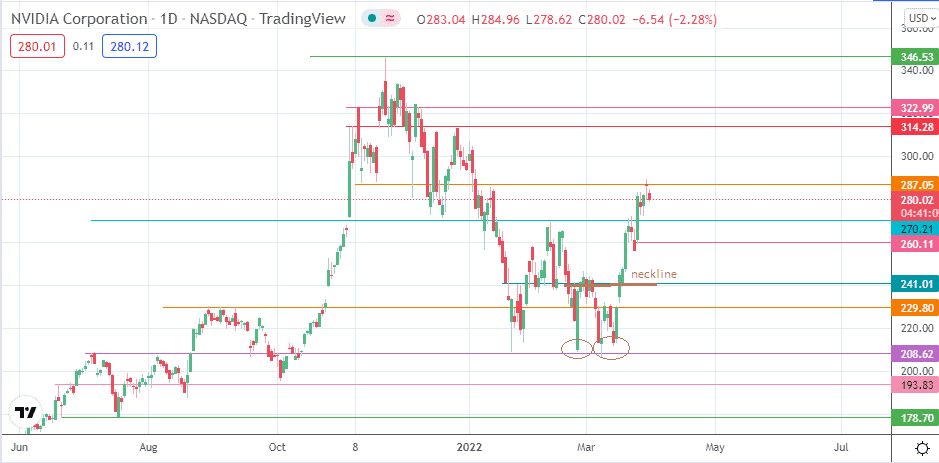 Follow Eno on Twitter.