NSBroker (NSFX Ltd) is a prestigious and regulated online FX & CFD broker based in Malta. Its main office is located at 168 St Christopher Street, Valletta VLT 1467, Malta. Since its establishment in 2011, NSBroker has attracted traders from all levels thanks to its vision of reforming the online trading industry. This objective is attained through 3 sub-targets which NSBroker's founder calls 3 pillars fostering the company: Innovative Trading Platforms, Innovative Trading Tools, & Excellent Trading Conditions. NSBroker is also popular for its reliability and diverse offers.
Traders from all around the world are benefited from the resourceful education centre, dedicated support team, a wide range of trading instruments and a high level of security. Furthermore, NSBroker offers among the best trading conditions of the industry including tight spreads, low commission fees, convenient payment and many more. These advantages make NSBroker a great destination for online money making and financial investing.
NSBroker Pros & Cons
Pros
A multi-regulated broker covering 5 financial markets
A free and unlimited demo account for all traders
Extensive and free education resources for all clients
Available market analyses, reviews and strategy-related discussion topics
Quick deposit/withdrawal
Competitive spreads starting from only 0.3 pips
Cons
NSBroker does not offer bonds and ETFs
Lack of high leverage choices
Only one real account type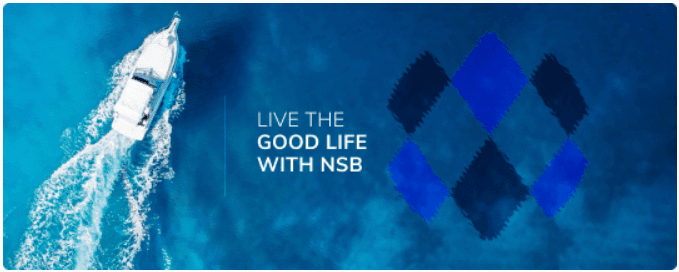 Who is NSBroker Recommended For?
Having its base in Malta, NSBroker's oriented targets are English, French, German, Italian, and Arabic markets. To be specific, NSBroker has its registration and is regulated by financial administration agencies in all of these countries:
Malta: License number IS/56519 by MFSA.
UK: License number 595195 by FCA
France: License number 74397 ACP
Germany: License number 131055 by BaFin
Italy: License number 3597 by Consob
Spain: License number 3354 by CNMV
Denmark: License number 9221 by FINANSTILSYNET
Additionally, NSBroker also acts under European Markets in Financial Instruments Directive (MiFID) which is founded to maintain a transparent and harmonious investment environment among European Economic Area.
Still, as a global trading brand, NSBroker welcomes traders coming from all countries with the only exception of the United States. Despite not having too many physical representative offices in continentals, NSBroker still manages to have multi-language customer care which can surprise clients by supporting you in your mother tongue.
Top NSBroker Features
ECN
NSBroker offers an Electronic communication network (ECN) for its trading environment. The biggest advantage of this connection type is that NSBroker purely plays the role of an intermediary without interfering with the pricing or execution. It simply receives the orders and passes them to the interbank market. As a result, the execution speed is much faster with no delay and no requote.
Spreads
NSBroker has ultra-low spreads starting from only 0.3 pips. The broker partners with top-tier banks like Dukascopy, PrimeXM, Citi, UBS, Barclay and others. These financial institutions act as liquid providers helping NSBroker facilitate orders by making a side easily matched with its counterpart, thus keeping the spreads low and stable.
Trading Platform
NSBroker enables its clients to use the MetaTrader 5 (MT5) for trading. MT5 is not just a simple trading terminal but it also creates a trading ecology system. This fact is reflected by various advanced tools it provides to help traders study the market to make informed decisions. Several notable features are 38 technical indicators, 44 analytical objects, 21 timeframes and an unlimited number of charts, observable depth of the market, both hedging and netting allowed, integrated economic calendar, etc.
Furthermore, as an innovative way of trading, MT5 supports automated trading by allowing trading signals, multithreaded strategy testing or expert advisors. It truly reforms the online trading industry and pushes this game of mind to a higher level.
NSBroker's MT5 has 3 versions:
Desktop: Clients need to download MT5 software which is built-in with NSFX Ltd server.
Mobile device: Available on both AppStore and Google Play, after downloading, clients need to search for the broker server to log in.
WebTrader: No need to download anything but clients have to access the NSBroker website before login to their trading accounts.
Support Channels
NSBroker has 3 hotlines at London, Austria and Spain and a mailbox at help@nsbroker.com. However, this broker has a multi-language support team who can speak your language. all you need to do is leave your contact and message, NSBroker will get to you within an hour. For technical support, the working hour is from 08:00 to 20:00 (GMT+3), matching with the server time of NSFX Ltd. server in the trading platform.
NSBroker's website can be displayed in English, French, German, Spanish, Russian, Italian, Portuguese and Poland which also are the main markets of this broker.
NSBroker Overview
| | |
| --- | --- |
| Regulation & Licensing | NSBroker is multi-regulated by MFSA, FCA, ACP, BaFin, CNMV, FINANSTILSYNET. It also complies with the stipulated rules on Markets in Financial Instruments (MiFID) and contributes to the Investor Compensation Fund. |
| Accepted Jurisdictions | Worldwide (except the US) |
| Assets Offered | Currencies: majors, minors, and exotics Energy carriers: Brent and WTI oil Precious metals: silver and gold Cryptocurrencies: e.g Bitcoin, Ripple, Ethereum, Litecoin indices: e.g. AUS200, JPN225, UK100 |
| Platforms Available | MT5 trading platform available in all versions: Desktop, mobile device (phone, tablet) and Webtrader |
| Mobile Compatibility | PC (Windows, Linux, Mac), mobile devices (iOS, Android) |
| Payment Types Accepted | Debit card, bank transfer, Skrill, Neteller |
| Languages | English, French, Russian, Spanish, Italian, Deutsch, and Portuguese. |
NSBroker Account Types
NSBroker offers only one real account type with the ECN environment.
| | |
| --- | --- |
| Features | NSBroker real account |
| Account Currencies | USD, GBP and EUR |
| Available Leverage | Up to 1:100 |
| Spreads | As low as 0.3 pips |
| Commission fees | $8/lot or 0.05% |
| Minimum deposit | $500 or equivalent |
| Trading instruments | Forex, precious metals, energy carriers, indices, cryptocurrencies |
| Min. lot size per trade | 0.01 lot |
| Deposit | Free |
| Withdrawal | Bank transfer, credit/debit card (free) Skrill, Neteller (2.9%) |
| Access to the Education Center | Free |
| 1-1 coaching | Requesting |
NSBroker Regulation
Being licensed and supervised by various European regulators, NSBroker has to bind to specific monetary policies:
Segregation of clients' funds: This policy obliges NSBroker to separate its clients' funds from its operating budget. It makes sure your money is used by you and for your trading purpose solely.
Negative balance protection: This tool automatically shut down all trades when your balance drops to zero. Its purpose is to prevent traders from getting into debt when trading on margin.
Compensation: NSBroker is a contributor to the Investor Compensation Fund. This fund acts as insurance and will compensate traders the amount of up to 20,000 Euro in case their broker fails to fulfil its obligations.
NSBroker Spreads, Leverages and Costs
As aforementioned, NSBroker's spreads are among the lowest in the industry starting from only 0.3 pips. Nonetheless, NSBroker doesn't provide too many leverage choices. The highest ratio that a professional trader can have at this broker is 1:100. On the other hand, medium leverage can be a safe ratio, especially for new traders since higher leverages can quickly wipe out their accounts after a few trades. As an ECN broker, NSBroker charges commissions for each trade, this fee can either be $8/lot or 0.05% of volume depending on the trading instrument.
Non-trading fees
This kind of fee refers to the charges which don't relate directly to trading. At NSBroker, while the deposit is free of charge, clients have to pay a fee for withdrawal via e-wallets. NSbroker doesn't charge maintenance or inactivity fee. In general, all fees are public on the website and there is no hidden fee that can bother the clients or interrupt their trading experience.
Real account application
To trade the real markets, you can create a trading account by clicking 'Open an account' on the top right of the homepage. In the application form dropping down, you need to provide your full name, email, create a password and choose the preferred base currency.
As NSBroker offers only one account type, clients don't need to do any classification test on knowledge and experience. It shortens the registration time and takes you no more than 10 minutes to finish. However, after that, a personal account manager still contacts you to discuss aspects relating to your trading and suggest the best ways to approach your financial targets.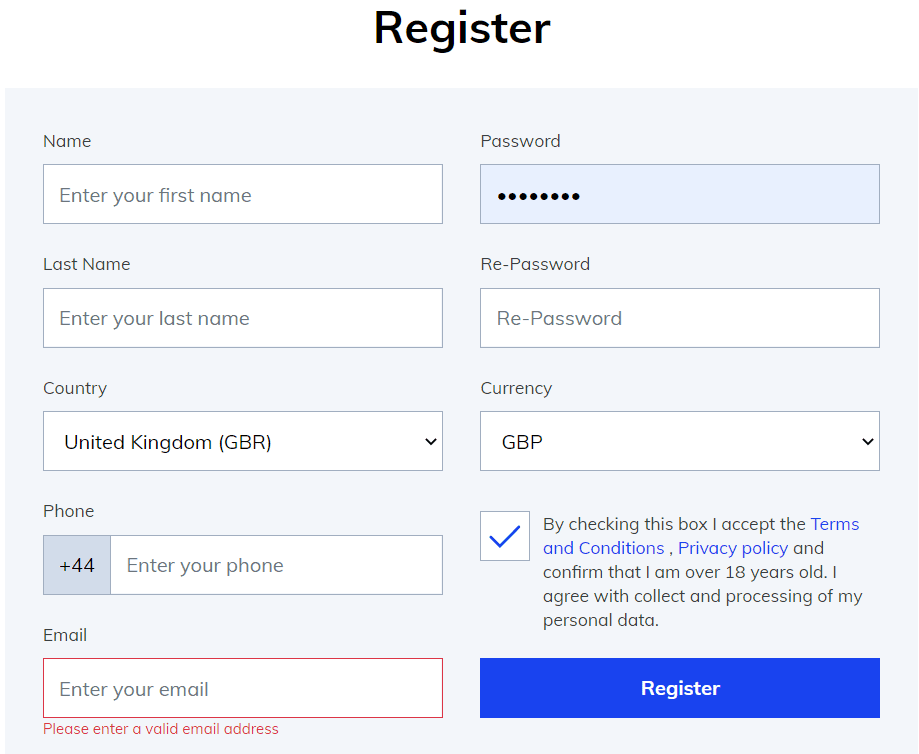 After finishing registration, you can open a free demo account to practice or experience NSBroker's features. Meanwhile, to trade with the real money and withdraw profits, you have to submit your personal documents including proof of identity (passport, national ID, driver license), proof of residence ( or financial statements) and proof of your payment (if you use credit/debit card). These documents are required to make sure you are the true owner of the trading account and to prevent money laundering. The last step is to fund your account with the minimum amount of $500 and start trading.
Minimum Deposit
NSBroker requires the minimum deposit amount of 500 USD/EUR/GBP which is an affordable number for all levels of traders.
Deposit and Withdrawal Fees
Clients can deposit into their trading accounts via 4 payment methods including credit/debit card, Skrill and Neteller and bank transfer. While depositing via the first three methods is processed instantly, funding via bank transfer requires up to 3 days for the money to reach your trading account.

Similarly, clients can withdraw their money via the above payment methods with the maximum processing time of only 2 business days. However, in terms of transaction fees, while withdrawal via bank transfer and credit/debit card is free of charge, you need to pay 2.9% on the amount withdrawn via Skrill and Neteller.

NSBroker Education Offering
Last but not least, one of the biggest reasons for making NSBroker an attractive destination for both professional traders and novice ones is its comprehensive education centre. This section consists of a wide range of training materials like ebooks, video courses and webinars.
While ebooks are the best materials to get the basic knowledge about trading and financial markets, video lessons are a more visualised approach. Meanwhile, webinars are the most interactive learning method. They act like online workshops covering various topics relating to basic trading strategies, new opportunities or simply instruction to navigate the platform. Webinar participants can also discuss with lecturers who are senior traders and professionals about all aspects of the trading industry. Moreover, all webinars are recorded so they can be rewatched easily by clients who couldn't make it to the online session.
For experienced traders who need something advanced and practical, NSBroker creates an Analytics section to share news, market reviews, technical analyses and also new strategies. Clients also see the economic calendar and find several handy tools such as pip, margin calculator or currency converter in this section.
Conclusions
NSBroker is a trustful FX & CFD broker which is widely regulated among the European Economic Area. It also implements clear and reasonable monetary policies to the clients.
In terms of trading conditions, despite the lack of leverage choice, NSBroker offers tight spreads, fast execution speed and a wide range of markets in the advanced MT5 ecosystem. NSBroker also guarantees outstanding services in various aspects such as customer care, payment or education.
Overall, NSBroker is a great start and also a perfect end for any traders who seek financial freedom.
Trading Platform Screenshots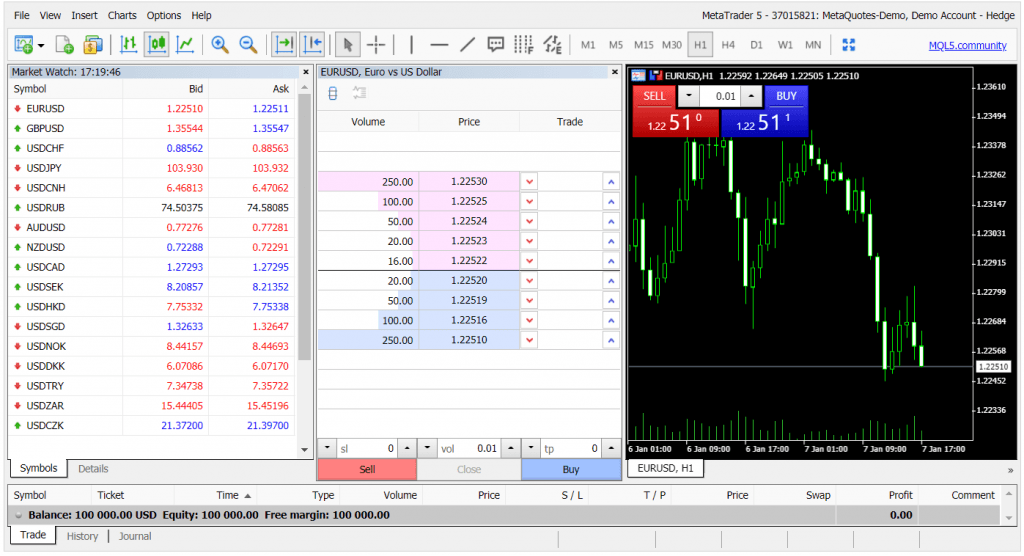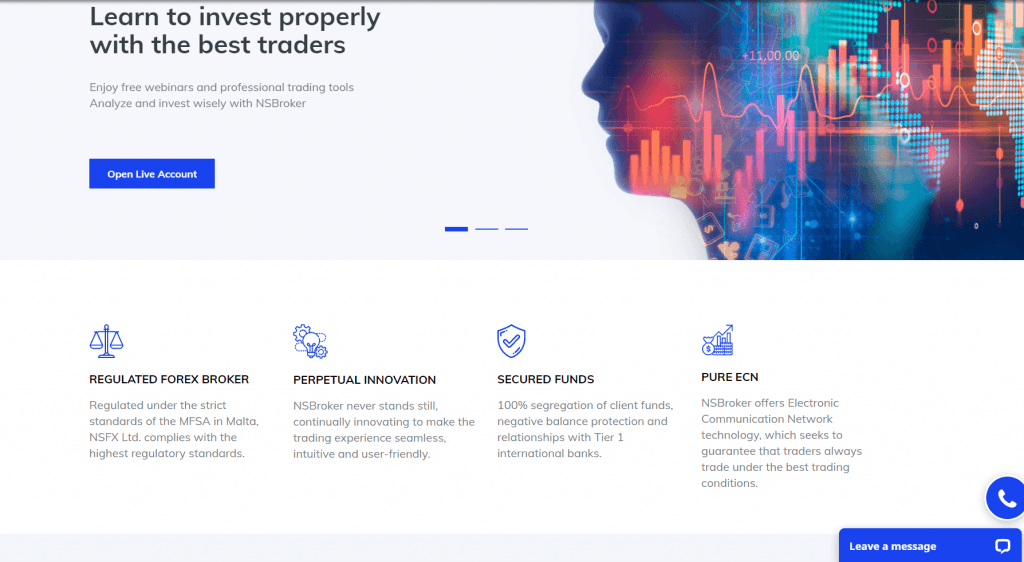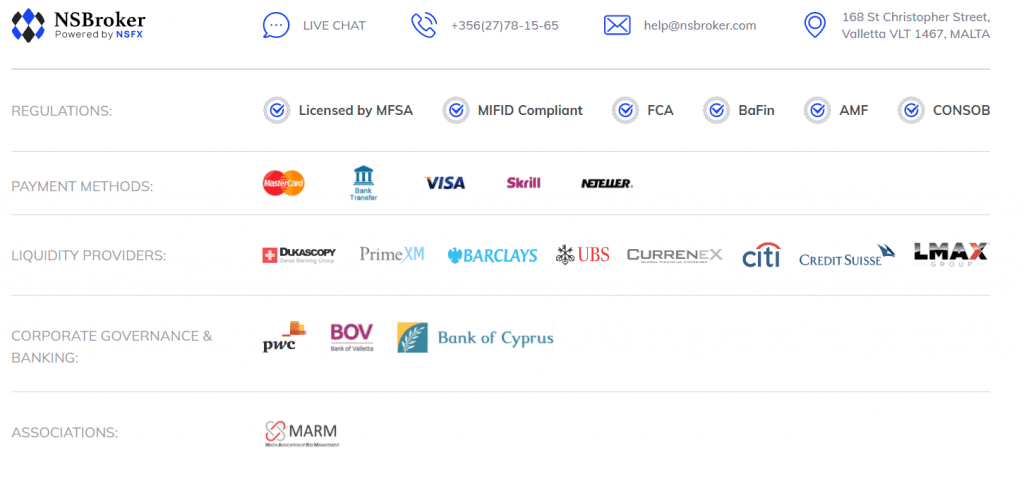 NSBroker FAQs
Q: What is NSBroker jurisdiction?
A: NSBroker is based in Malta but it is also regulated in various European countries. Global traders can join and trade with NSBroker.
Q: How do I contact NSBroker?
A: You can visit NSBroker headquarter at 168 St Christopher Street, Valletta VLT 1467, Malta, call them via their 3 hotlines, use the live chat or leave your messages at help@nsbroker.com.
Q: How do I view all the assets offered by NSBroker?
A: You can click 'Market Watch' on the NSBroker's MT5 platform. After that, right-click and select 'Show All.' You can also check out all instruments plus their spreads and commissions on the Asset section of the homepage.